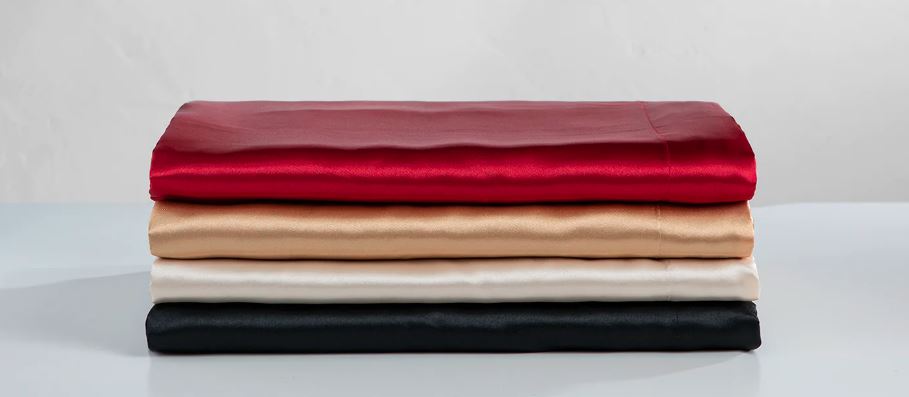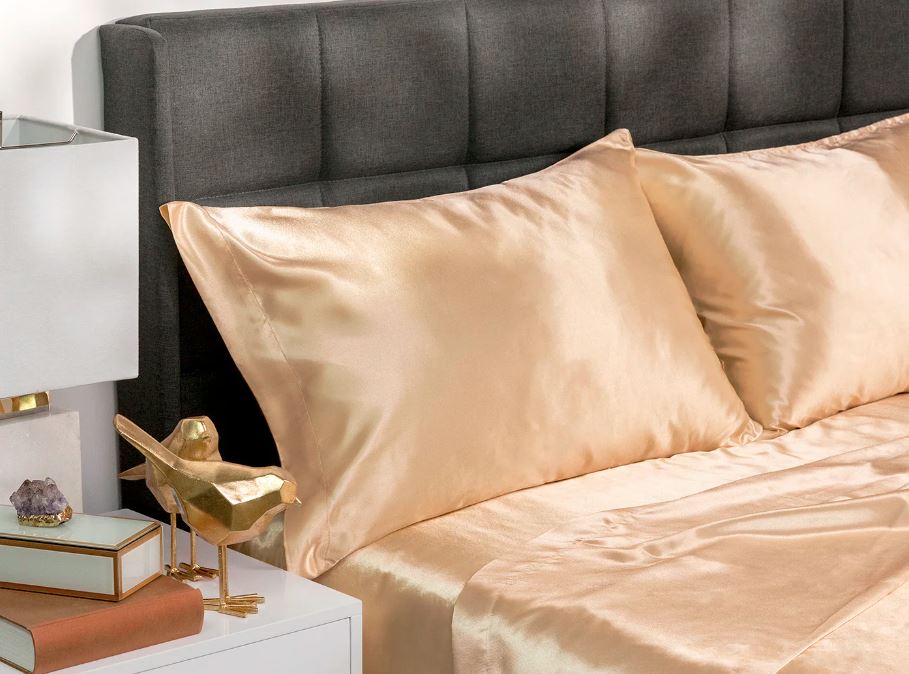 Have you been dreaming of sleeping on silky satin sheets? There's a wonderful feel to satin that makes it irresistible for anyone looking for a luxurious sleep experience. Satin bed sheets not only look beautiful and feel wonderful, but they also have many advantages and are a great choice for your bedding.
Topics covered in this post:
Have you experienced silky Satin sheets before? Which weave or material do you prefer for your sheets? Let us know in the comments!
What are Satin Sheets?
Satin is not a particular material, but a type of weave. The weave pattern creates material that is smooth, creating a look and feel similar to natural silk. Satin has a beautiful sheen that makes it stand out from your everyday bed sheets and that trademark silken comfort. The feel of satin is smooth and slippery, making just slipping into and out of bed a luxurious and relaxing experience. The fabric drapes beautifully and is often used in formal evening wear and other clothing, as well as for lustrous bedding.
Satin weave sheets may be made from different materials including polyester, rayon, nylon, cotton or even silk. The weave consists of four or more  weft threads over one warp (or the other way around). Satin's long, smooth weave creates material with one side that is shiny, and the other not.
Benefits of Buying Satin Bed Sheets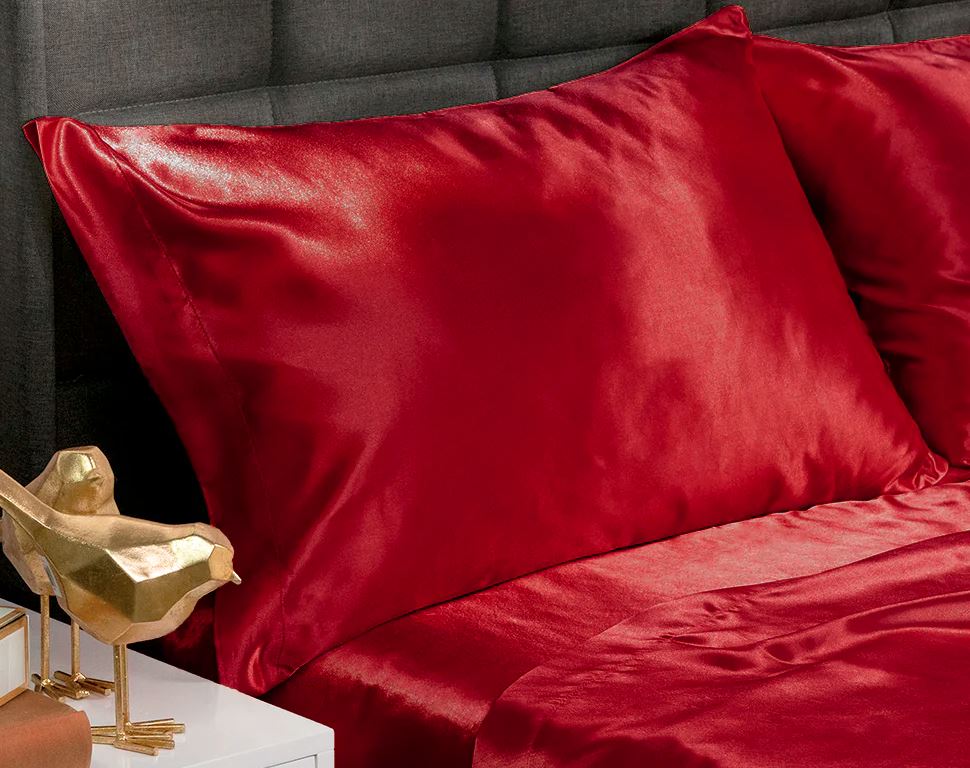 Satin is not only beautiful, it also has characteristics that make it soft and silky; a good bedding choice:
Satin is easy care: Unlike silk, which must be dry cleaned, satin bed sheets can be machine or hand washed. Hang to dry or dry on a low heat setting.
Satin is wrinkle resistant. satin sheets are less prone to wrinkles than silk. They retain their beautiful draping form and shine, not to mention that satiny smoothness. To avoid damage, never iron satin sheets.
Satin is durable. With good care, satin sheets will last and retain their beauty, satiny smoothness, and soft comfort. Because of the long weave, satin can snag, so avoid wearing clothing that may snag on your sheets.
Satin keeps your hair from tangling. Like silk, the smooth surface texture of satin let's your hair slide easily across your pillow. This means it is less likely to tangle or bunch up as you sleep on this material perfect for elegant sheet sets.
Other Differences: Satin vs. Silk
Shine – Silk shines on both sides of the fabric, while the satin weave creates shine on one side only.
Wicking and breathability – silk wicks away sweat and oils, absorbing them into the sheets, while satin does not. This allows satin to stay fresher on the bed. Satin bed sheets are temperature regulating. They will keep you warmer in winter than silk sheets, while still feeling cool in warm weather.
Less expensive – Since it can be made from many standard materials, satin is a more affordable choice than silk, which is a product of silkworm cultivation and has a more complex manufacturing process.
Sobel Westex Silky Satin Sheet Set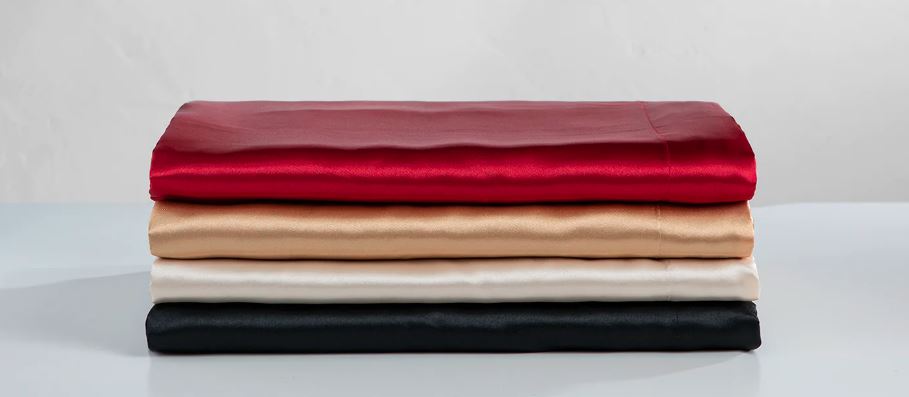 Our luxury hotel bedding line would not be complete without our beautiful Silky Satin Sheets Set. Made from 100% brushed microfiber polyester satin, this four piece sheet set is soft and smooth, adding a special touch to your bedding collection. With these Sobel Westex satin sheets, you enjoy the strength and durability of polyester with all the benefits of silky smooth satin at your fingertips.
Our silky satin sheets are deep pocket and fit up to 14 inch mattress depth. At 72  GSM, the fabric is lightweight for an extra luxurious feel and easy handling. Available in dramatic black, ivory, gold and red, our silky satin sheets are easy care. Just machine wash separately and tumble dry on low.
For extra beauty, pair your satin sheets up with one of our branded soft and silky bedding sets, like the exciting Hard Rock, Star Wars™ or new Disney Resorts Home Collections. Order yours today and experience the sheer relaxing comfort of satin sheets.