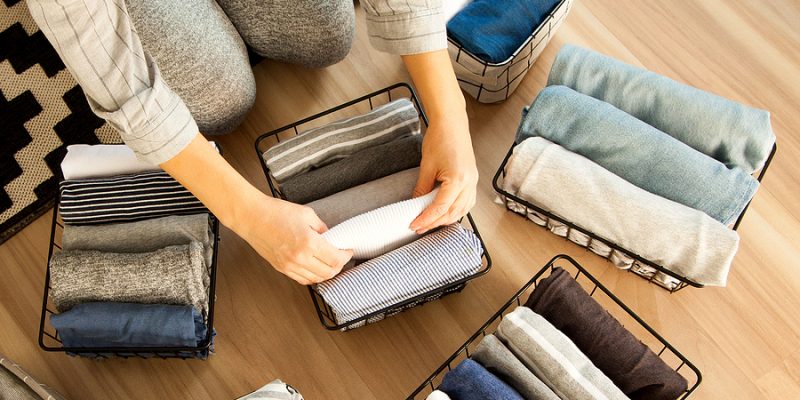 Is your Linen Closet in Chaos?
If you are like most of us, your closet for linen storage is not the most organized space in your home. Linens come in all shapes, sizes, and uses. Too often, items get jumbled together as we take them out and put them back into the closet. Soon you're spending too much time looking for that favorite  fluffy bath towel or finding a full matching set of cotton bed sheets. But there's hope. Organizing your linen storage closet is easier than you think. With a little planning and organizing, you'll be able to find the right sheets, blankets, and towels you need for every room in your home. Here are some storage ideas for organizing your linen closet.
The following article will cover all of the topics listed below.
(What's your biggest challenge when it comes to linen storage? Finding space, how to store properly, or perhaps accessibility? Let us know below in the comments!)
Reduce the Clutter
The first step to any organizing project is to get rid of those items you never use.  These tend to take over your linen closet storage space. Toss the thinning towels, torn washcloths, and worn bed sheets. If you've saved the kids' superhero comforters all these years, it's ok to let those go or donate them. In the case of your linens, like in much of life, the 80/20 rule applies. We use 20% of what we own over and over, and the rest, that 80%, just hangs out in the closet. So, especially if you are tight for space, get rid of everything you don't use. Furthermore, reduce the overall number of items of each type of linen to keep things simple.
A good guideline is to keep two full sets of quality bed sheets and three towel sets for each bed and bath you have. Comforters take up a lot of space, so reduce these bulky items to only what you need, usually one or two per bedroom. With less clutter, you can now organize your linens in an efficient way to get the most from your storage space and save a lot of time in the future finding things you need.
Sort and Prioritize
Separate your linens by type and color. A great way to find what you need quickly is to establish a color pattern for each room and bath and store them separately. That way, you'll spot them faster when you need them, and it will be easy to put away laundered linens in their designated spot. As you plan out your storage space, another idea for linens is to place items you frequently need at the front and on an accessible shelf level.  Conversely, store seasonal items like comforters and throws, or other bulky items like extra pillows, on the higher shelves at the back since they are used less frequently.
Useful Accessories for Storing Linens
Shelves and Baskets
Closet organizers are another great idea for maximum space efficiency. You're off to a great start if your linen closet has sectioned shelving and drawers. Sectioned shelving helps keep your linens neatly in their place. If you have open shelves, or prefer to keep your linens from tumbling off the shelf, obtain plastic, wire or lined wicker storage baskets. You can even label them on the front showing what each bin contains. Store beach towels in totes so they are ready to go when beach day arrives.
When purchasing your baskets, plan ahead by knowing how much storage space you will need for your linens. Get containers of a few different sizes for large and small items. For example, small containers work great for grab-and-go items like washcloths.
If you already have shelf dividers or prefer to add them to your linen closet, you won't need to use baskets to hold things in their place. Baskets or other containers, however, add a neat look to the shelves and, with labels, help you find things quickly when you need them, so they can be a nice accessory to divided shelves.
Another tip is to add drawers in your linen closet. They are a great storage place for smaller linens like washcloths, or delicate items, such as formal tablecloths and cloth napkins.
Under-the-shelf hanging baskets work nicely for organizing smaller closets or in bathroom cupboards, making use of vertical space.
Organize Linens Neatly
Now that you are armed with storage containers, it's time to work on your linen closet layout with some unique shelving ideas. Long-term items will go on remote or very high shelves, and items you use often in the center and at eye level or below. You may want to store sheets and towels by size, color or by destination bedroom or bathroom. If you prefer a room by room color scheme, then plan to group like colors together. If you'd rather sort by item, lay out your shelf storage space for large linen items first (comforters, blankets, spare pillows), saving the closest spaces for sheets, towels and washcloths.
Put hand towels and washcloths in small baskets in your bathroom for convenience as well as to save storage space in the linen closet. If your bathroom accommodates it, you can also roll and store extra bath towels on bathroom shelves.
Don't forget to use floor space in your linen closet. Us for larger baskets or to store bulky items.
Folding Towels and Fitted Sheets
If you enjoy the convenience and look of towels folded like spa or hotel pillows, roll them up and place them in small baskets. Or, simply fold hand and bath towels in 3 parts vertically and then fold them in half. This is helpful with thick plush bath towels, which also can be rolled to save even more linen storage space. Folded or rolled towels will fit neatly into a basket and are ready to grab and hang on a bathroom towel rod for use.
Fold up and assemble your sheet sets. Try sticking to distinctly different color sheets for each different bed size so they are not mixed up when laundering. Folding your fitted sheets can be a challenge, so here's  how to fold them to keep them as compact and wrinkle free as possible. To store, you can place the assembled sheet set inside one of its matching pillowcases. This way, you can just grab a pillowcase and go when it's time to change the bed sheets. You can also use linen laundry bags for this purpose. Choose cotton bags for breathability.
Comforters, blankets and other thick linen items can be stored on shelves or in baskets. To save space, seal them in vacuum "space bags". With this type of storage, be sure the items are clean and thoroughly dry before sealing them in. Vacuum sealing is great for wool items, protecting them from moth larvae that can damage them. Do not vacuum pack your feather down comforters or pillows as the feathers may be broken in the process.
Protecting and Storing Your Linen
Make sure your linen closet space has room for air circulation between and around shelves to help keep items fresh. Don't store items unless they are completely dry and clean to avoid the growth of bacteria. Similarly, don't store linens in attics, basements, garages, or sheds. These areas are subject to dampness and small critters that may find them fun to chew on.
Keep your linen closet smelling fresh with a box of baking soda or a gentle scent sachet. Cedar chips will help keep critters away from your linens. It's best not to leave linens lying in the closet for years. Take them out and wash them once or twice a year to keep them fresh. That's a good time to discard items you aren't using and make room for new linens. Refresh them with baking soda or whatever light scent you are using.
With your newly organized linen storage space, you may find you need a new sheet set or other items. Sobel at Home carries the very best in luxury hotel quality linens and bedding. Visit us online to take a look.