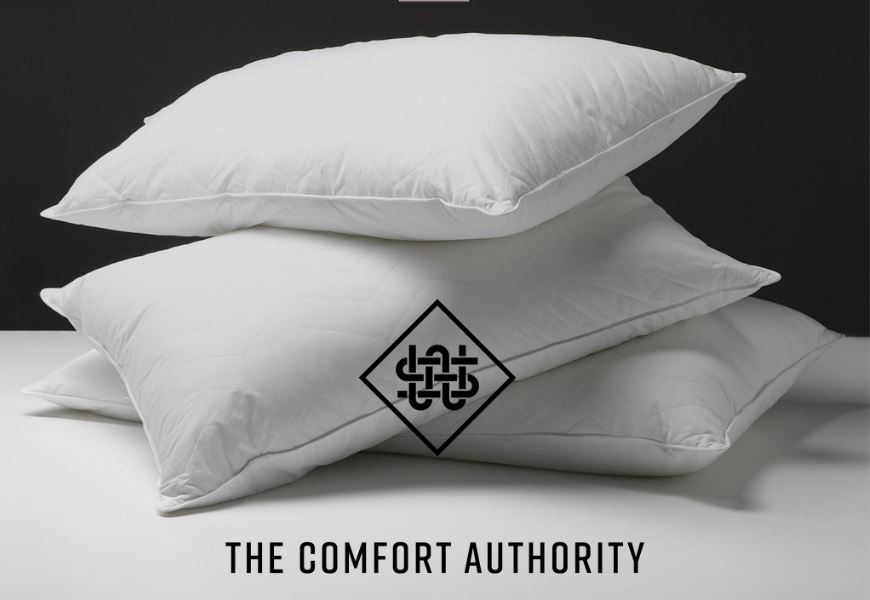 If there's one thing we at Sobel Westex know, it's the world of textiles, quality fabrics, and hotel linens. We've been providing linens to the global luxury hospitality industry for decades. With design and production facilities around the world, our experts create and produce a range of products for our clients. Our priorities are always comfort, beauty, and durability. We strive to offer a range of top-quality products to please our clients, designed for different tastes, styles, and budgets. For our hospitality clients as well as our customers at Sobel at Home, we provide lots of information about your products, including detailed descriptions, materials and dimensions, finishes, and special features, as well as care instructions so our customers can make the best purchase decisions.
Did our guide help you to understand our products better, any terms you would like to add to the list? Let us know in the comments below!
Of course, the textile industry uses a variety of methods to create different designs, looks, and feels, with various weaves, textures, decorative finishes, thicknesses, and so on. Here are explanations of some of the terms you will find as you browse our website and get to know our hotel linen products.
Terms You May See in our Quality Linen Product Descriptions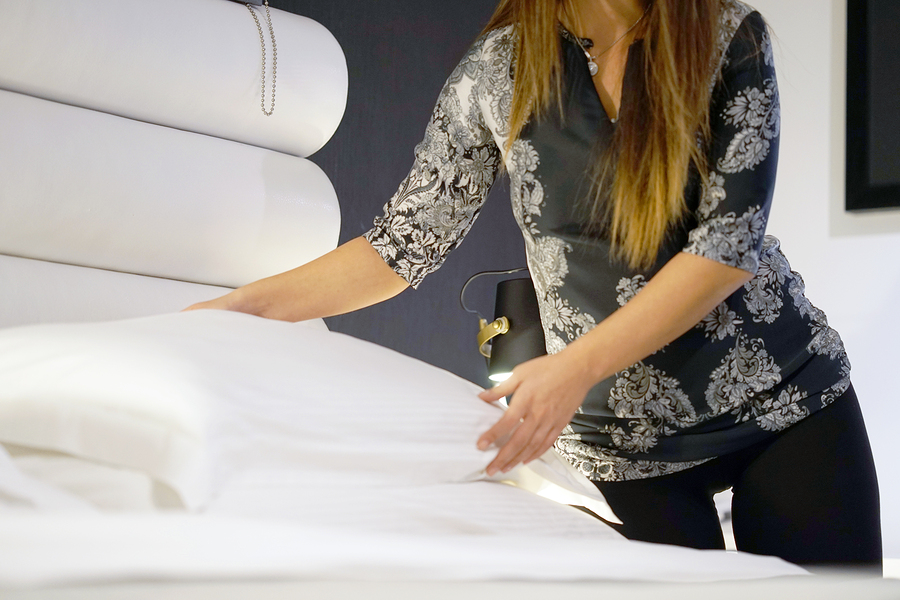 Cambric Weave – Cambric fabric is dense and strong, making it ideal for use in hotel linens such as bedding and towels. It is often calendared, that is, passed through calendar rollers at high pressure and temperature to give it a smooth, flat surface. The warp and weft weave, where threads alternate over each other, means the color will be the same on both sides of the fabric.
Denier –  this is a measure of the density of the fabric, which is especially important when it comes to hotel linens. This is a measure of the density of the fabric. It is based on the length of a single strand of silk, about 9000 meters that weigh about one gram. Low-denier fabric will be silky and sheer. Higher denier fabric is thick and durable. A fabric with a width of less than one is known as a microfiber. For comparison, a strand of human hair is about 20 denier.
Dobby – Dobby fabric is produced on a dobby loom. The fabric usually has a textured feel with a repeated, small geometric pattern woven in. A dobby design enhances the beauty of a product, such as the textured dobby stripes on our Raiya Turkish towel collection.
Fiberfill – this is polyester or polyester blend fibers that are combed and fluffed to resemble cotton balls. They give a soft and comfortable lift to hotel bedding items like pillows and comforters.
Flange – a flange is a decorative strip of fabric that is sewn into the edges of hotel linen items, such as a pillow sham, duvet, or comforter.
French fold – a French fold is a piece of fabric folded back over another. This is most often seen in hotel pillowcases where the extra fold is used to keep your pillow inside the pillow case or sham without the need for a zipper.
GSM – GSM stands for "Grams per Square Meter" and is a measure of the weight of a fabric. Lightweight fabrics will be less than 150 GSM, medium 150-350 GSM, and fabrics with GSM above 350 are heavyweight. While silk fabric falls in the lightweight category, most bedding will be in the medium range. Our luxuriously thick Turkish towels are 600 GSM, which gives them their thick and plush look and feel for hotel linen such as bath towels and beach towels.
Gusset – this is an extra piece of fabric that is inserted to reinforce or expand a corner or fold for an easier and sturdier fit. For example, our Sobella Soft pillow has a 1.5-inch gusset that gives the pillow casing form and shape and helps this luxury pillow hold its loft.
Herringbone – The herringbone pattern resembles the scales of a fish (named after the herring), with alternating patterns of twill weave, one going left, and one right. This attractive pattern is mainly used in wool (think men's suits) and cotton fabrics, and is also used commonly in hotel linens such as sheets and towels.
Jacquard – Jacquard weave is a design woven right into the fabric, not stamped or embroidered on top of it. This is accomplished with a jacquard loom and allows intricate pattern designs that also add texture to the fabric. Jacquard designs can be woven into many types of materials, including cotton, wool, silk, and linen. Jacquard weave produces beautifully patterned bed linens such as our Jacquard sheet set.
Matelasse – this is a single-ply hotel linen fabric that is intricately woven to look like quilted fabric. It is usually quite thick to resemble a quilt and may be woven on a jacquard loom, making it ideal for use in hotel sheets, pillowcases, duvets, and comforters.
Microfiber  – Microfiber is a manmade, usually polyester, material of very small fibers. It produces lightweight, soft, and hypoallergenic hotel sheets or blankets. Brushed microfiber is created by brushing the surface to raise the fibers, giving it a fuzzy, soft, and cozy feel…
OEKO-TEX Certified – this is a safety standard that means the fabric has been tested for substances harmful to human health. This organization updates the standards annually for textile manufacturers to follow. Fabrics that meet this standard are certified and can be safely used in bedding, clothing, and hotel linen, including children's items. All of our hotel linens are OEKO-TEX Certified to ensure the highest safety standards.
Percale – Percale is a popular fabric for hotel linen, as it is a strong, tight weave fabric that usually carries a thread count over 200, giving it a sturdy texture and good durability. Its crisp, smooth feel and breathability make it an ideal choice for sheets, duvets, comforters, and other hotel bedding items.
Pilling – Pilling is the annoying buildup of fluff balls that accumulate on the surface of fabrics, usually those made of inferior cotton. Short fibers break easily and the fabric begins to deteriorate. Pilling happens on many items, from hotel linens such as bed sheets, towels, and bathrobes, to clothing. It creates a scratchy, unpleasant feel. You can reduce pilling by washing on a gentle cycle, avoiding harsh detergents or bleach, and line drying. The best prevention is to buy items with quality, long-fiber cotton, such as Egyptian, Pima, or Turkish cotton. These types of cotton are often used in hotel linens, so if you're looking for a product that will last, you may want to investigate whether it is made of these fabrics.
Polyfill – these are spun polyester fibers that recreate the natural feel of down in many items, including luxury pillows. Polyfill also provides insulation for warmth in items such as outerwear and hotel bedding, such as coverlets and comforters. It is hypoallergenic and mildew-resistant.
Ring Spun Cotton – this cotton is made by twisting strands of cotton, making them ever thinner. This results in a very strong cotton yarn and a stronger fabric, perfect for luxury hotel pillow cases and bedding. The process also makes the cotton threads feel softer as shorter strands stand out of the yarn and provide extra softness. Ring-spun cotton's strength makes it more durable so items, such as hotel towels, last longer."
Sateen Weave – This weave produces sheets that feel silky and warm, with a smooth, luxurious feel and a silky sheen. Our hotel bedding is made of high-quality materials, such as cotton, cotton blends, rayon, and nylon, making it a more durable alternative to silk. They are a good choice as a more durable alternative to silk.
Thread Count – Thread count is the number of threads per square inch of fabric, and generally a higher thread count will make hotel bedding items such as sheets, pillowcases, and luxury pillows feel softer and more durable. Quality materials and manufacturing are also important factors in creating a quality hotel bedding item – sheets with a thread count of 300-600 are usually the best choice for comfort, quality, and durability.
Ticking – Ticking is a durable, tightly woven fabric used to cover items like hotel pillows and mattresses, protecting them and providing a soft, comfortable surface for the user. For luxury bedding, ticking is usually made with 100% cotton or linen, and includes reinforced seams for extra strength. Ticking is used for many items, when used in upholstery, ticking fabric is sturdy, striped, and available in different colors to be used to cover furniture.
Get to Know Sobel at Home's Luxury Hotel Linens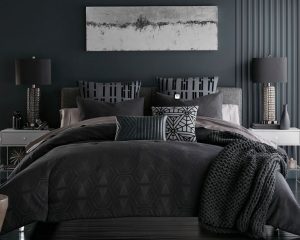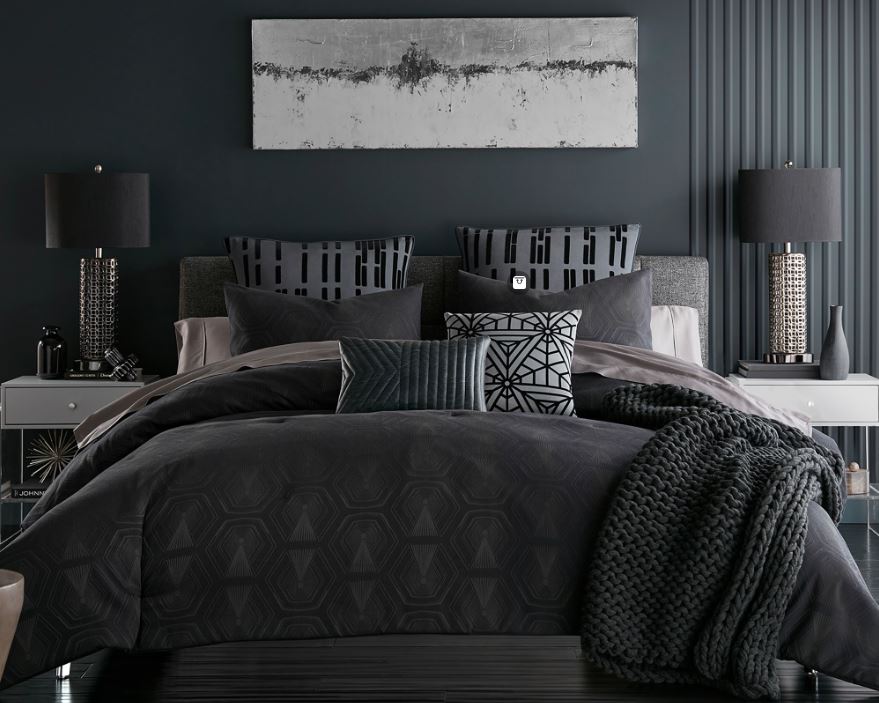 Sobel Westex hotel quality linen products have pleased our clients for decades, from our world-class hospitality partners to our Sobel at Home customers who love using these same products at home. Now that you know the lingo, get to know our products which include the best hotel pillows, bed linen, bath sets, blankets, throws, and comforters. We also offer unique and original themed luxury bedding, including our beautiful Star Wars™ Home, Disney Resorts Home, and Hard Rock Home collections. We know you will want to try some of these beautiful, luxurious items for yourself.