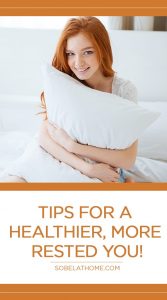 It's incredible how much time we spend sleeping. It equates to about a third of our lives, making it a cornerstone of our health. Sleep is what gives us more energy, more stamina, and greater access to our creativity.
Unfortunately, not all sleep is created equal. That's why your bedding is one of the most valuable investments you can make. These materials come in direct contact with your skin for long hours at a time, and can absolutely influence the quality of your sleep. It's not a luxury so much as it is a necessity. From your linen, to your pillows, blankets and more, every part is essential to getting the rejuvenating sleep you need so you can conquer the day ahead.
At Sobel, we're committed to giving you the best night's sleep. Update your entire bed, or upgrade one piece at a time. We recommend starting with your pillows. That's why we're extending our pillow sale. Extended until Sunday, July 31st, take advantage of our best-selling pillows and get 30% off. Go ahead! You deserve the best night's sleep.
Don't forget to sign up for our email list, so you can get the latest promotions and start your journey to a healthier, more rested you.