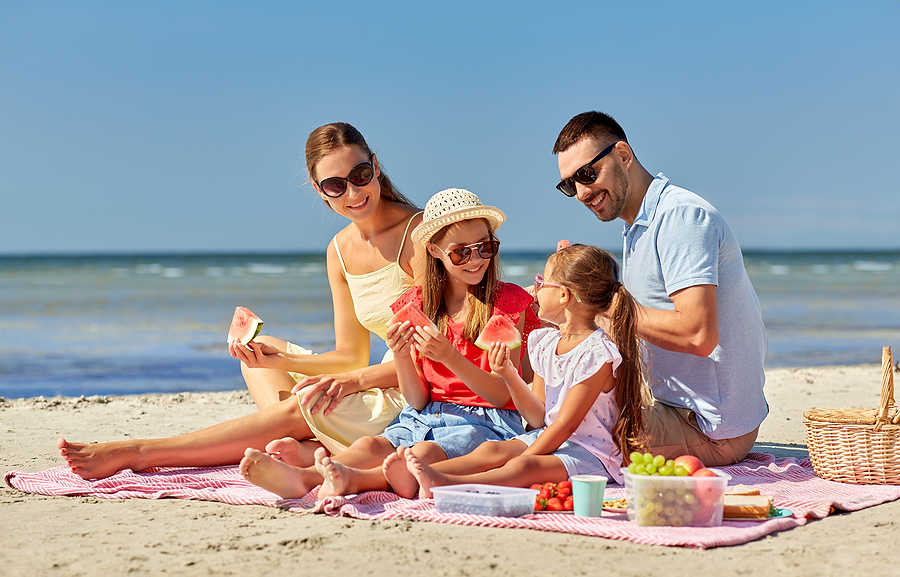 Tips for your Trip to the Beach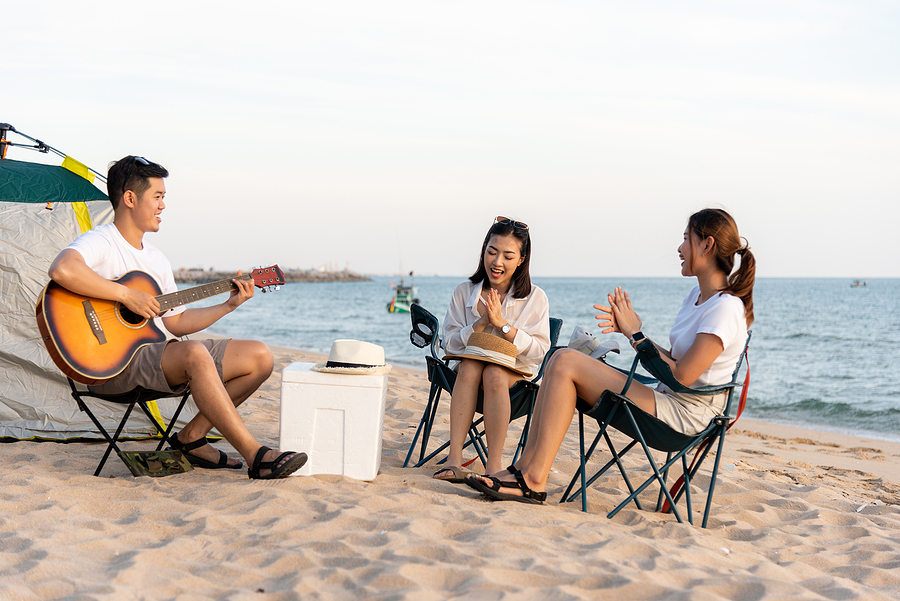 Planning your summer getaway that includes a trip to the beach? Spending a day at the beach with friends and family can create great memories. Here are some tips on how to make the most of your day at the beach, and a peek at some of our beautiful beach towels to bring along.
When was your latest trip to the beach? Are your beach towels quality made? Let us know in the comments below!
What to Bring to the Beach
Whether it's a day trip or a week-long stay at the seaside, there are a few Beach vacation must-haves you'll want to be sure to bring along on your trip to the beach. Keep everyone safe, comfortable, and happy by packing these essential items.
Safety and Health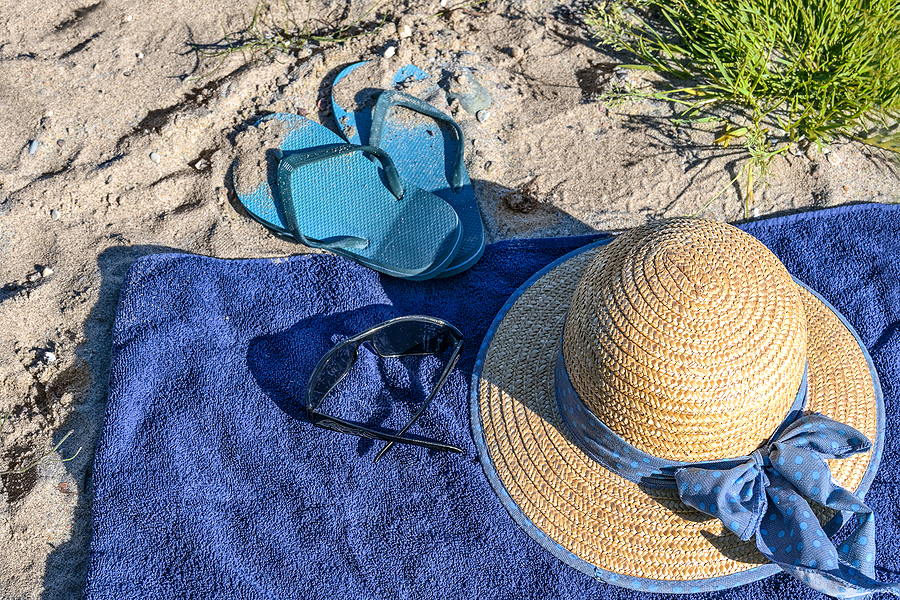 Sunscreen: Apply enough SPF 30 sunscreen to cover all exposed skin for good protection. Reapply frequently, especially after going into the water. Don't forget to pack it alongside your resort essentials and beach gear.
Sunglasses for everyone: Protect your eyes from sun damage and intense light with sunglasses that reduce glare. Opt for glasses that block UVA/UVB radiation and 75% or more of visible light for the best protection. Remember to bring your stylish beach hat or baseball cap along with your cotton terry towels.
Hats: Avoid heatstroke, headaches, and sunburn by wearing a

stylish beach hat

or baseball cap. Ensure that everyone, including kids, wears hats as they are essential beach vacation must-haves.
First aid kit: Pack a basic first aid kit, including bandages, adhesive band-aids, antiseptic, antibiotic and anti-itch ointments, aspirin, tweezers, and any necessary prescription medications. Having a first aid kit on hand, will help deal with any beach-related injuries or incidents.
Ziploc bags: Keep your cell phone and other electronics protected from sand and water by placing them in Ziploc bags. These beach bags are a handy addition to your beach gear and accessories, including your bath towels.
Stay Comfortable
Sand-proof shoes: Sandals look nice and feel cool, but tend to let sand in and make walking and running difficult. If you intend to do a lot of walking or playing on the beach, wear lightweight sneakers that keep your feet safe from intruding sand and make your beach exploration and play easier. Lightweight sneakers will absorb less water and dry faster than your heavy running shoes.
Beach chair: If you plan to spend time just enjoying the view, reading, or listening to music, bring along a beach chair. Beach chairs are more comfortable than sitting on the ground for long stretches. And they lift you off the sand, making eating and drinking a bit less, well, sandy.
Umbrella: A beach umbrella comes in handy in the afternoons when the sun is hottest. It's especially important if you have children with you to protect their more sensitive skin from the sun. Don't forget to bring your absorbent towels along with the umbrella for a complete beach setup.
Change of clothes: A quick change of clothes will allow you to hit the shops or get back in the car without being wet from playing in the surf. A lightweight cover-up comes in handy if the sun is too intense on your skin or if it gets windy on the beach. Remember to pack your resort essentials alongside the change of clothes for convenience.
Beach mat and towels: Plan to spread out and set up comfortably with a lightweight beach mat and several

beach towels

. Towels come in handy for sitting, wrapping up, and drying off. And they are great for stretching out and taking in some rays. Pair your beach mat and towels with your beach bags and you're set.
Eats and Drinks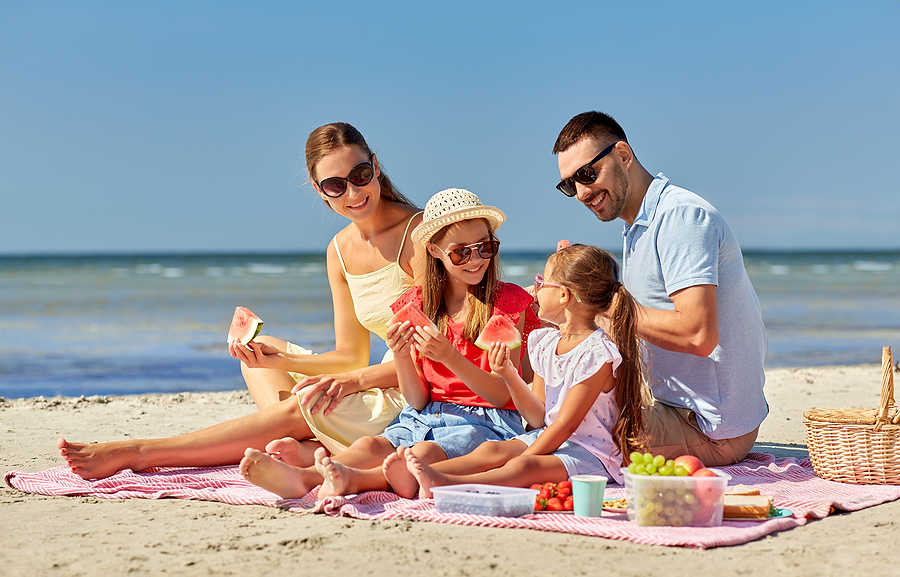 Being in the fresh air and sunshine will make everyone hungry. Bring along enough to keep everyone fed, or if you'll be near a boardwalk or beachside shops, just pack snacks and drinks and then check out local eateries at mealtime. Items to bring along with you include:
Cooler: Keep your food and drinks cool with an easy-to-carry cooler.
Easy eats: Pack sandwiches, premade cold salads, or other easy-to-serve items.
Bottled water: Bring plenty of water and make sure everyone stays hydrated to avoid heatstroke.
Refreshing snack items: Keep snacks light and healthy, like fresh fruit, which will help keep everyone hydrated as well.
Cookout?: If you want to make a meal, bring barbecue equipment and fixings, but be sure to check local regulations for your destination beach.
Entertainment
Plan a few activities and don't forget the basics to keep yourself entertained:
Binoculars: These come in handy to spot passing ships, whales, seabirds, and other things going on onshore or at sea.
Games: Bring your favorites, like a frisbee or bucket and spades for sandcastles, and if you'll be spending all day, bring along cards or other games you and your guests might enjoy.
Bluetooth headphones: Come prepared so you can listen to your favorite playlist, a podcast, or audiobook while you relax, jog, or take a quiet walk.
Sports equipment: If you plan to get active, set up beach volleyball or go surfing or fishing. Make reservations ahead of time if you think you'll need to rent equipment or book a boat ride to go fishing or whale watching.
Beautiful Beach Towels
Beach towels come in handy for many uses, like wrapping up, drying off, lounging, napping, and keeping warm. For your outings, look for high-quality beach towels that are thick and absorbent, large enough to give you the coverage you want, durable, easy to care for, and, of course, beautiful to look at. Sobel Westex makes pool and beach towels used for poolside and in the spas of the finest hotels around the world. We make them available to everyone in our online store, Sobel at Home. Our beach and pool towels are made with the highest quality materials on state-of-the-art manufacturing equipment, for comfort and durability.
Here are two of our favorite beach towels. These big towels come in two sizes: regular 30 x 60 inches and extra-large 35 x 70 inches.
Hotel Splash Stripe Pool Towel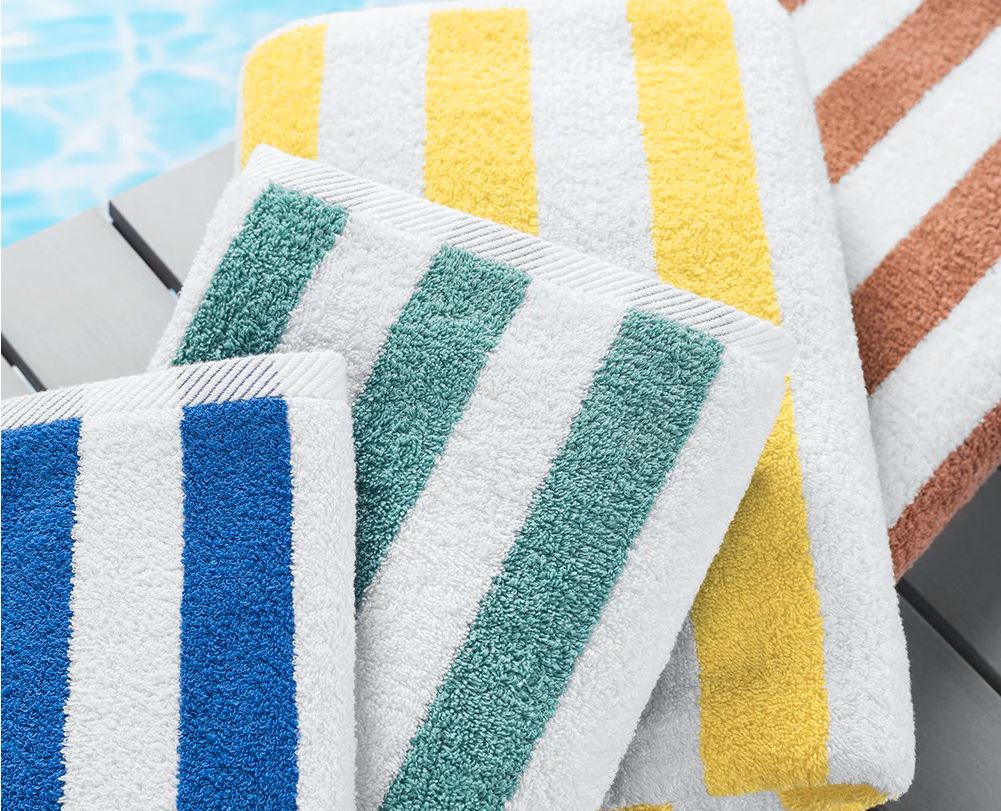 Our popular Striped Hotel Pool Towel is made from 100% ring-spun cotton, making it soft, plush, and absorbent. They are also durable, so they last and look great for a long time. The Striped Hotel Pool Towel has a double-needle stitch on the hems, which means no ragged edges, so your towel looks new longer. This towel comes in pretty tones of beige, blue, green, and yellow stripes on a white background.
Hotel Splash Horizontal Stripe Pool Towel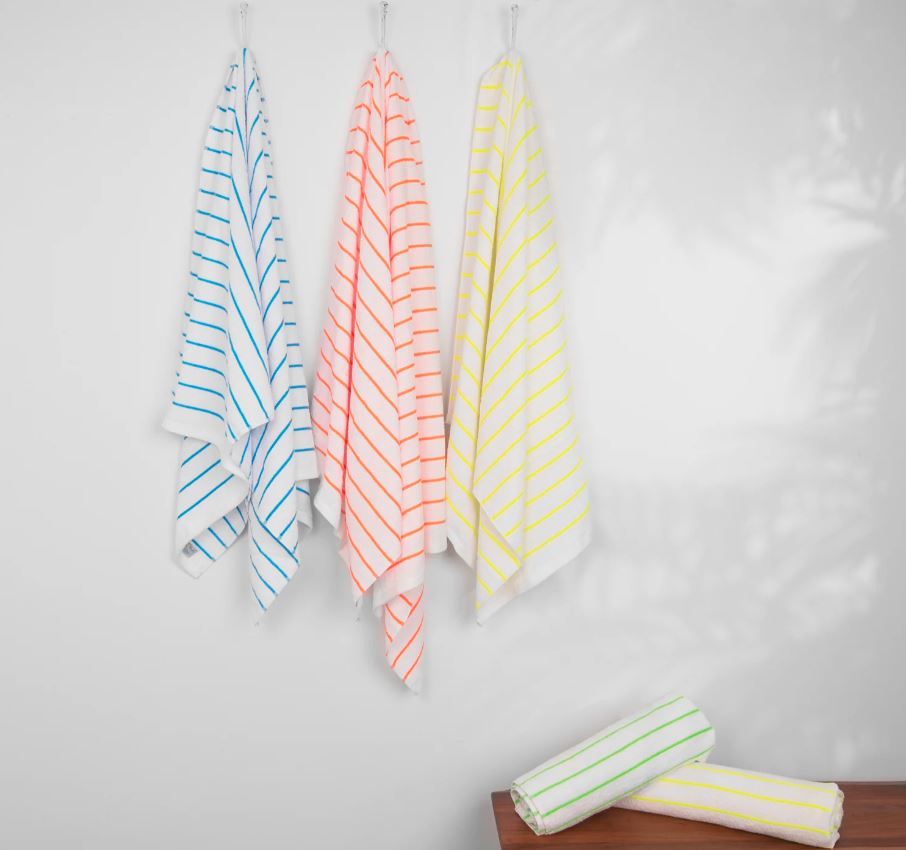 If you want to make a real splash at the beach, go for our colorful Hotel Splash Horizontal Stripe Pool Towel. These pretty towels have bright neon colors that stand out wherever you use them. Made from 86% cotton and 14% polyester, they are soft, durable, and absorbent. Choose your favorite color or mix and match. They are available in neon blue, green, orange, pink, and yellow.
While you're browsing at Sobel at Home, check out our other beach and pool towels, as well as bath sets and spa items. Whatever you choose to take along to make the most of your beach adventures, we wish you and yours wonderful times at the beach this summer.