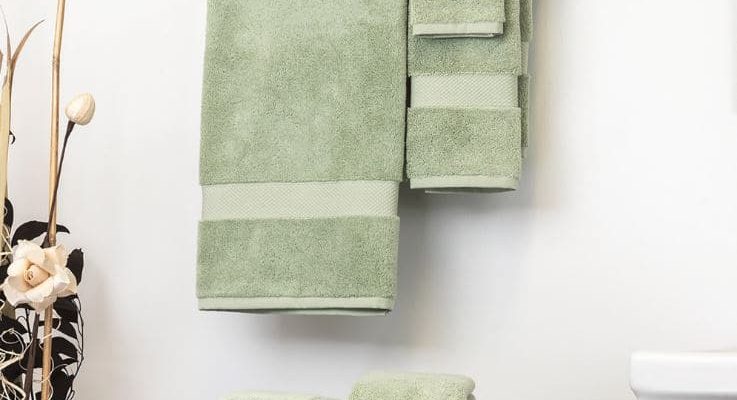 Meet our Newest Luxury Hotel Bath Sets 
The comforting luxury of plush, top quality bath towels can make an ordinary bathroom feel like a luxury spa. Remember your last luxury vacation, whether it was a hotel, resort or cruise ship? You likely enjoyed fresh, plush, luxurious bath towels that pampered you every time you used them. If you want to bring the luxury hotel bath experience into your home, take a close look at our newest collection of luxury bath sets now available.
These towel sets offer the best of Sobel Westex quality linens, soft to the touch, plush and cozy when you wrap up in them, and beautifully designed and crafted to enhance the look of your bathroom at home. Let's meet our newest Egyptian and Turkish luxury bath towel collections.
Appreciate the Warm Appeal of Egyptian Cotton Towels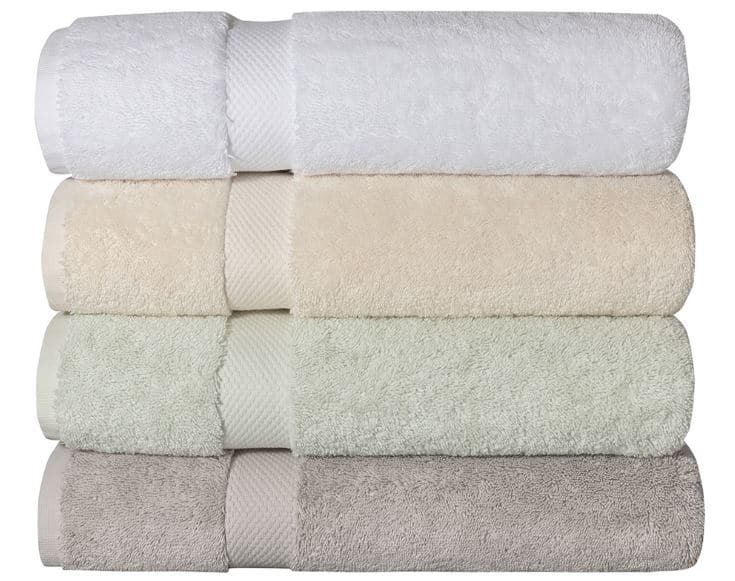 Soft and warm Egyptian cotton is the perfect textile for quality towels. The high thread count soothes your body, readily absorbs the water and then dries quickly. You'll notice the quality difference as soon as you wrap yourself in the comforting warmth of an Egyptian cotton towel.
Our Pyramid Excel bath towel sets are pure Egyptian cotton, beautifully designed, with a tasteful jacquard dobby border in a selection of gentle, contemporary colors. Choose from three quality hotel bath towel sets that include 2 bath towels, 2 hand towels and 2 washcloths:
Pyramid Excel Silver – This finely woven, durable bath set will add an elegant touch to your bathroom. Wrap yourself in the towel's plush, soft comfort and feel the tension of the day flow away. Select from gentle shades, including pink blush, rich cream, taupe and classic white, to complement your bath decor.
Pyramid Excel Gold – This luxurious bath set offers the same soft and smooth Egyptian cotton with high thread count. The towels offer a plush and luxuriant feel and designer styling with an attractive jacquard dobby border. This set is available in four soft and tasteful shades: light purple, rich cream, sage or classic white. 
Pyramid Excel Platinum – The ultimate in luxury, this towel features the highest thread count for an even thicker, more luxurious towel, super-absorbent and extra plush for the ultimate bath time experience. It is available in the gentle colors of aqua, lunar rock, rich cream or white.
Experience the Luxury of High Quality Turkish Towels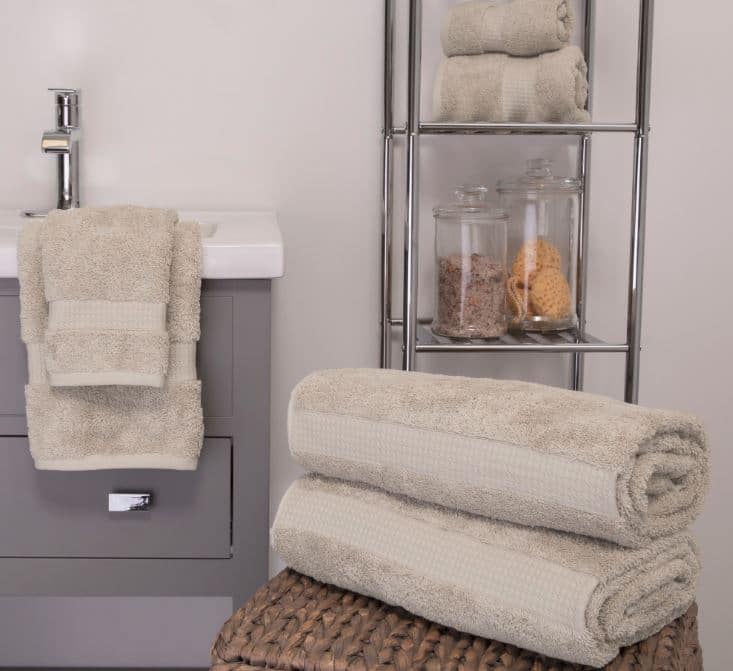 Turkish towels are considered a top luxury towel for their long, soft and strong cotton fibers that strengthen and soften the fabric. Turkish towels are lightweight and extra soft against your skin, and yet they're very durable. They are highly absorbent and dry quickly to help keep away that mildewy wet towel smell. The strong Turkish cotton fibers seem to get softer with each wash. These are just some of the reasons Turkish towels have gained a great reputation among those who appreciate fine bath linens.  Here are our two Turkish towel sets, which also come in sets of 2 bath towels, 2 hand towels and 2 washcloths:
Pure Elegance Gold – There are few better ways of pampering your body than with a comforting touch of this quality Turkish cotton towel set. Tastefully decorated with a classic jacquard dobby border, this luxurious towel set is available in four soothing colors: blue mist, orchid, rainy day and white, for just $39.99 per set. 
Pure Elegance Platinum – In soft and calming shades of sage, lunar rock, rainy day and white, this extra plush Turkish towel set is extra soft and luxurious. It will add an elegant touch to any bathroom and provide you or your guests with a luxury hotel bath experience every time. You will enjoy its quality and durability as well as its warm and cozy feel every time you use it.
Indulge Yourself in a Luxury Hotel Towel Experience at Home
Take advantage of the beautiful and top quality Pyramid Excel and Pure Elegance towel sets available from Sobel At Home. You will enjoy the extra bit of daily luxury, as well as the high quality, durability and designer look of these high end luxury towels. Once you bring this luxury hotel towel experience home, you'll never go back to ordinary towels.
Sobel Westex provides luxury linens to many of the world's finest luxury hotels using top quality materials, like 100% ring spun cotton, and state of the art weaving technology for finer, softer, more beautiful and more durable luxury towels and linens. We sell these same items to you at Sobel at Home, so you can bring that high-end hotel feel into your home with just the click of a button.
Visit us anytime at sobelathome.com for a wide selection of top hotel towels and linens, including fun and cozy pool towels to liven up your summer pool time, pillows, bed sets, blankets and more.