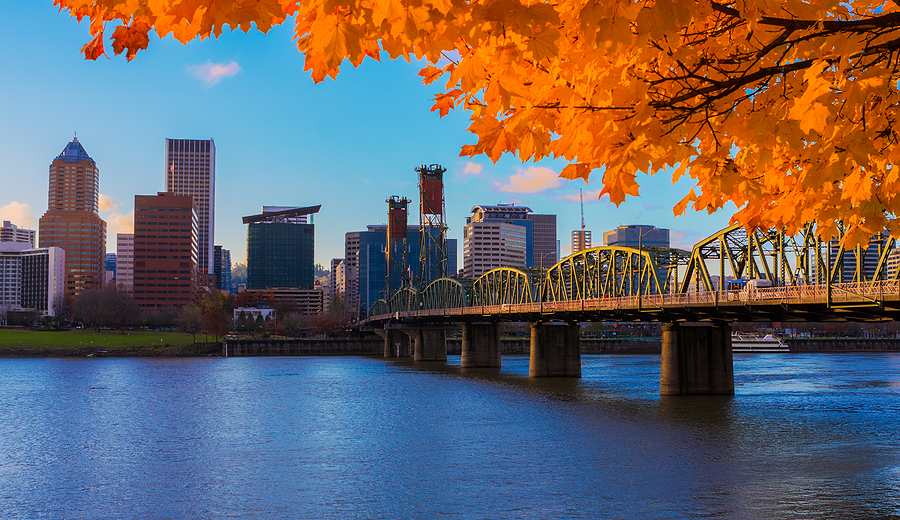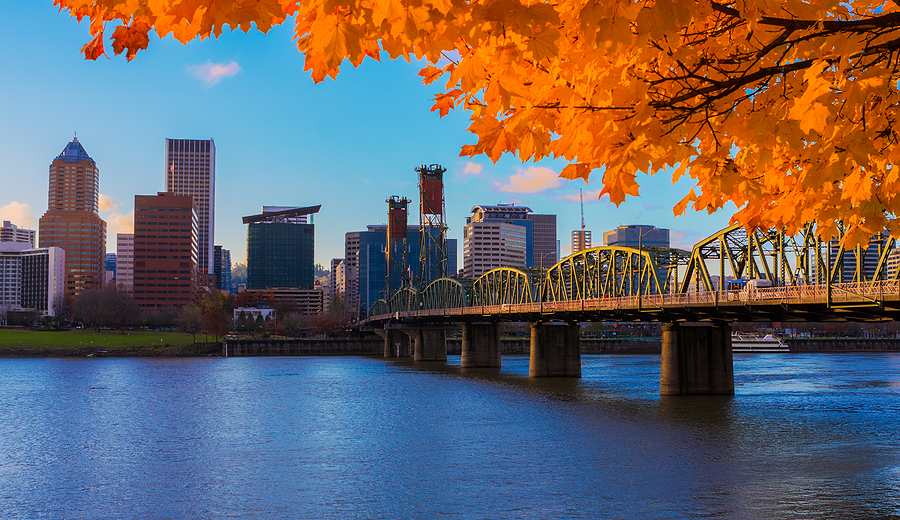 As the foremost provider of premium bedding to hotels and resorts in the US and around the world, we at Sobel cherish the splendid weather and beauty of fall travel. Here is why Fall is a great time to travel, as well as a few ideas for great fall bedding products to keep enjoying those travel memories.
The following article will cover all of the topics listed below.
What is your favorite place to visit in Fall and why? Which is your favorite inspired luxury bedding? Let us know in the comments below!
Advantages of Fall Travel
When the heat and crowds of summer melt away, savvy travelers grab great travel deals and book trips to their favorite destinations. Why is fall such a popular time to travel? Here are our top five reasons:
Smaller Crowds: Whether you head to Disney World and the other attractions in Orlando, Florida, or hit the trails of Zion National Park, you'll find shorter lines and more room to roam. It will be easier to snag those tickets you want and get better service in restaurants and hotels where staff are happy to see you and more free to help out.
Great Weather: Fall weather brings milder temperatures and often clear blue skies that make being outdoors more enjoyable. Good weather means fewer weather-related travel delays and easier packing as you can dress lightly, but not have to deal with the sweltering heat of summer.
Fall Beauty: Many people travel to destinations where fall colors are stunning, like Acadia National Park in Maine. Birders enjoy following the migratory travels of their favorite species, and campers, in places like Yellowstone National Park, can enjoy spotting elk, buffalo, and other wildlife that are more active in fall. Whether you enjoy hanging at the beach, kayaking a river, or exploring the desert, the fall has some spectacular beauty to enjoy.
Festivals: For those who love to enjoy great local food, drink, music, and culture, there are an endless number of fall festivals across the country to choose from. Whether you choose an event like the spectacular Adirondack Balloon Festival, or the lively Oktoberfest Zinzinnati, where you can enjoy a brew and watch the Running of the Wieners (dachshunds, of course), indulge your fun side and soak up some local culture along the way.
Seasonal Specialties: Fall is harvest season with abundant local produce to savor. You'll be able to enjoy fall food festivals, excellent local cuisine, or farmers markets overflowing with fresh produce and local delicacies. And, with fewer crowds, get the pick of the best dining selections, including local meats and fresh catches from the sea.
Spruce up Your Bedroom with Premium Bedding Products from A Luxury Bedding Collection
Bring Home your Fall Travel Experience with our Disney Resorts Bedding Collection
A wonderful way to relive memories of your fall Orlando resort vacation is by updating your bedding with selections from Sobel, luxury bedding collections – Disney Resorts Bedding Collection. The collection features four distinctive and beautiful designs that reflect the Disney resort they were created to commemorate. Made with the high-quality materials and state-of-the-art manufacturing in all our Sobel Westex hotel linens, each of these collections is designed to evoke the unique atmosphere of their resort origins, beautify your bedroom, and keep you warm through the fall and winter as you dream of vacation days past. Continue your travels as you sleep by choosing your favorite resort design. Add accessories, including matching bed sheets, a weighty hand-woven throw, or a soft fleece blanket for a complete new look.
The Zulu Collection, Inspired by Disney's Animal Kingdom Lodge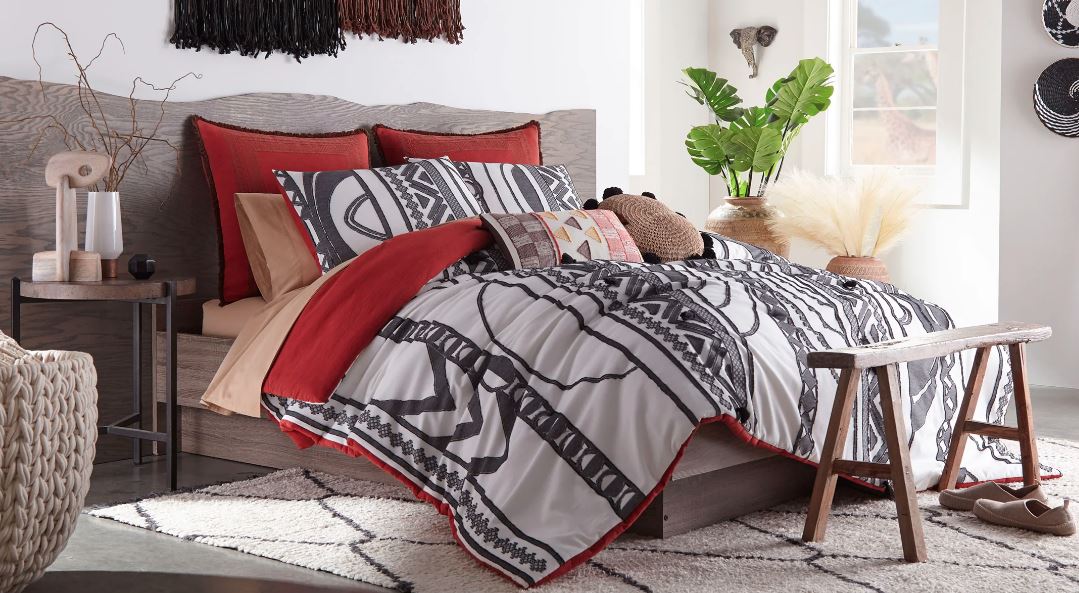 Embark on an adventure to the heart of the jungle with our Zulu Bedding Collection, brought to you by Sobel luxury bedding collection and inspired by Disney's Animal Kingdom Lodge. If you're a fan of the resort, you'll recognize designs reflecting the tribal shield chandeliers in the resort's lobby. The striking black and white jacquard weave on the comforter and pillow shams carries on the tribal theme, while the reverse sides are deep clay red for a bold look. The luxury hotel bedding set includes a 12" x 18" decorator pillow with a traditional design and colors reminiscent of an African savannah sunset. A second decorator bed pillow in earth browns and hand-woven jute is bordered by black tufted tassels.
Garden Trellis, Inspired by Disney's Grand Floridian Resort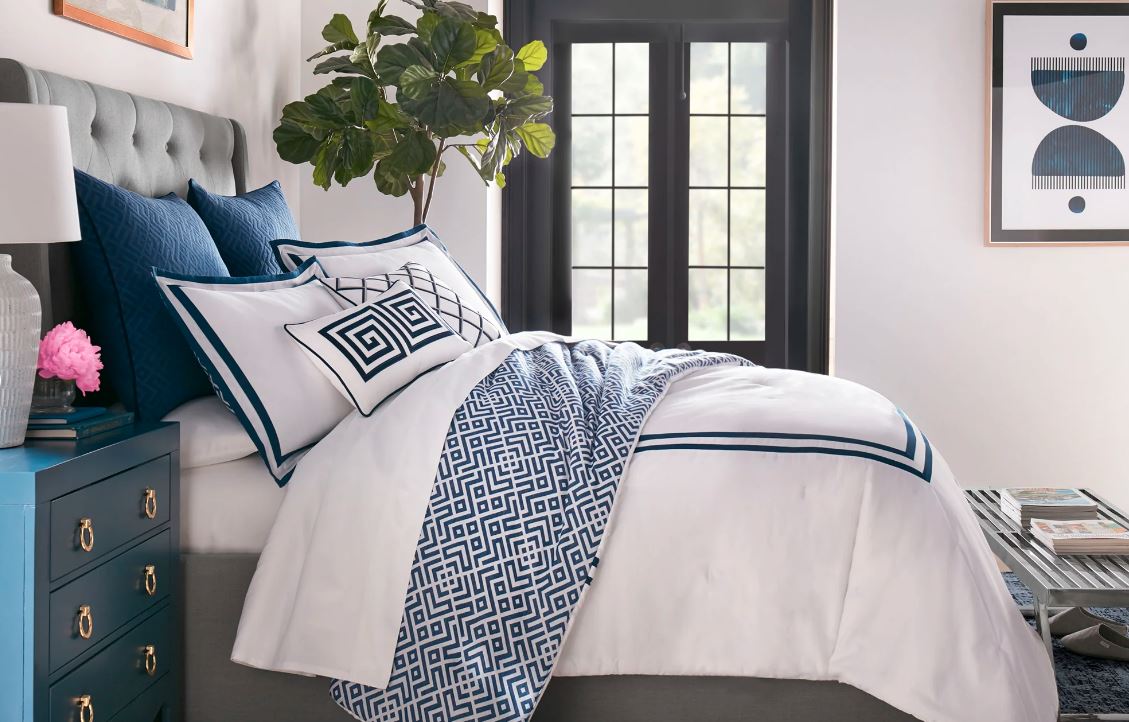 Discover the pinnacle of luxury with the Garden Trellis Collection, exclusively from Sobel luxury bedding collections and inspired by Disney's Grand Floridian Resort. This collection offers a touch of simple elegance with its Asian-style pattern and relaxing white and blue colors that evoke vacation days by the water or at the seaside. The comforter and shams for this premium bedding are made from smooth and cool cotton satin, featuring double blue applique banding for a refined look. The set includes two distinctive decorator bed pillows: a rectangular (12" x 18") pillow with a satin ribbon design and a square (16" x 16") pillow with a blue and gray overlaid diamond pattern. Sobel also carries satin bed sheets in a wide range of colors as a perfect complement to complete the look.
Island Palms Collection, Inspired by Polynesian Village Resort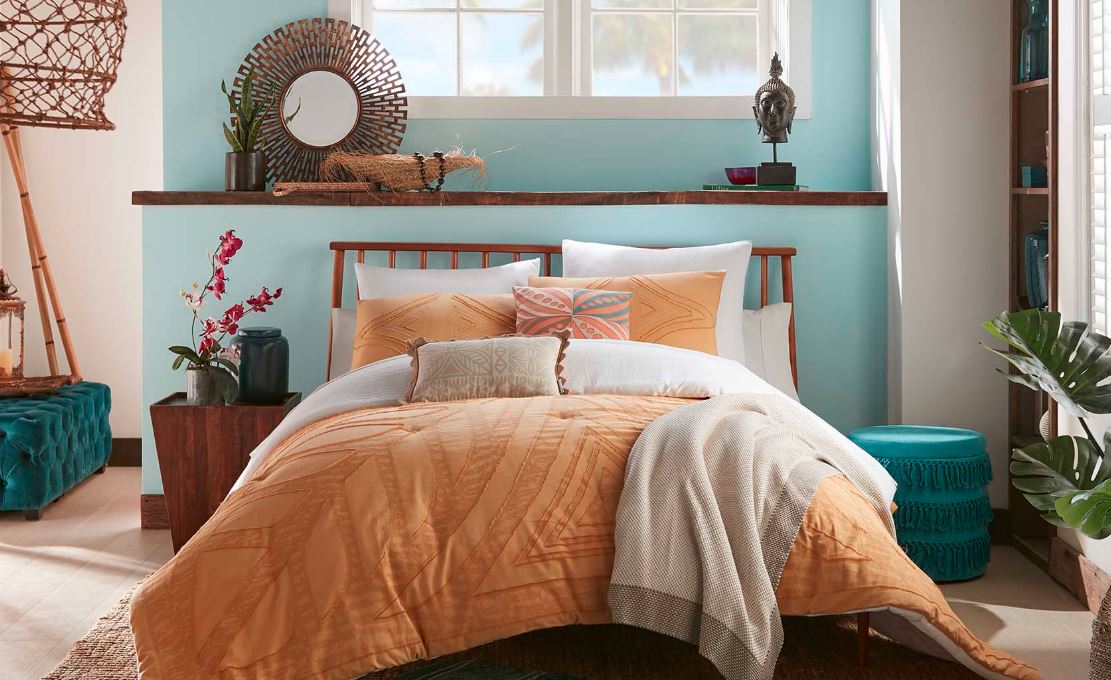 Transport yourself to the renowned Polynesian Village Resort with our Island Palms Collection, provided by Sobel luxury bedding collections. This collection draws inspiration from the lush landscapes of Hawaiian and South Pacific vacations, invoking memories of pristine beaches, flickering tiki torches, and tranquil evenings sipping tropical beverages. Don't let the impending cold nights worry you; bring the warmth of these memories home.
The comforter in this premium bedding boasts rich sunset-inspired colors and bold, Tiki-style textured palm leaves that infuse your bedroom with a tropical atmosphere. The reverse side pattern showcases more tropical delights, including hibiscus flowers, ocean waves, and a sea turtle motif. To complete the look, the set includes a square decorator bed pillow adorned with a lotus flower design and a rectangular pillow featuring a floral motif with a hand-woven jute fringe border. We're sure you'll find the perfect bed sheets at Sobel Westex to complete this island ensemble.
Metropolitan, the Contemporary Resort Luxury Hotel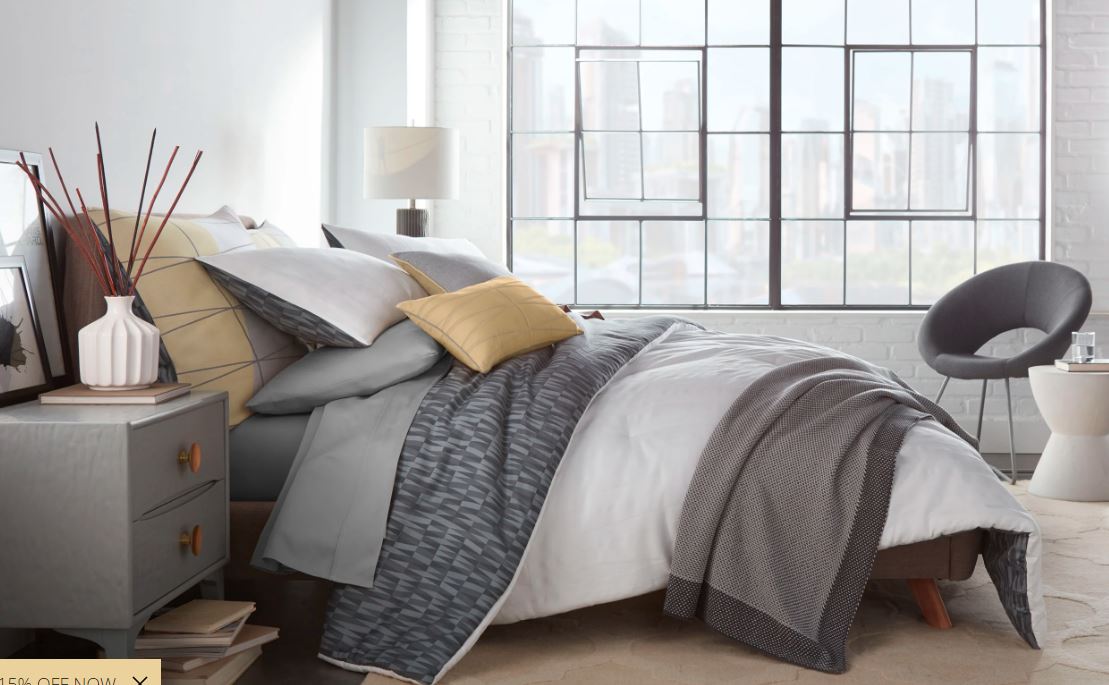 Sobel Westex, a distinguished luxury bedding collection, introduces the Metropolitan Collection, inspired by Disney's modern vision and iconic Contemporary Resort. Sleek, cool, and slightly techy, this set will transform your bedroom with a clean, contemporary look you will look forward to hanging out in all year round. The comforter design for this hotel bedding includes a tribute to the resort's atrium windows with a subtle triangle design. The reverse features a repeated pattern of lines in shades of gray, reflecting the shadows cast by the windows. Two decorator bed pillows add the colors of the sunshine that bathes the famous resort's lobby, in yellow, white, and gray.
Hard Rock Home Bedding Collection
If you're traveling this fall or attending musical festivals and concerts year-round, explore our Hard Rock Bedding Collection from luxury bedding collections. This premium bedding collection draws inspiration from the music and ambiance of vibrant Hard Rock Luxury Hotels, featuring musical motifs and striking designs tailored to rock enthusiasts like you. The Diva Collection embodies the elegant luxury that both rock stars and resort guests can appreciate. With a color palette of bold black, gray, gold, and white, this intricately patterned comforter set will bring your bedroom to life. Standout gold decorator bed pillows add the finishing touch to this sophisticated look.
The Best Travel Adventures include Sobel Westex Luxury Bedding Collections
Whenever and wherever you travel, you are likely to enjoy Sobel Westex premium bedding. Sobel provides bedding products and hotel essentials to resorts from the Las Vegas Strip to famous holiday and travel destinations across the country and around the world. We provide a chance for our satisfied guests to bring home the same bed pillows, bedding, and hotel bath linens they enjoyed on the road, so they can feel like they're on vacation any time of year. Check out all our current product offerings at sobelathome.com.