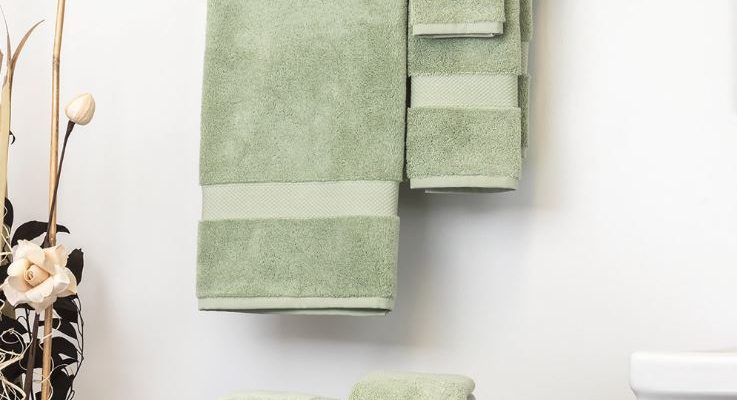 What we cover in this post:
(What's your priority in choosing towels for your bathroom? Comfort, durability, absorption? Let us know below in the comments!)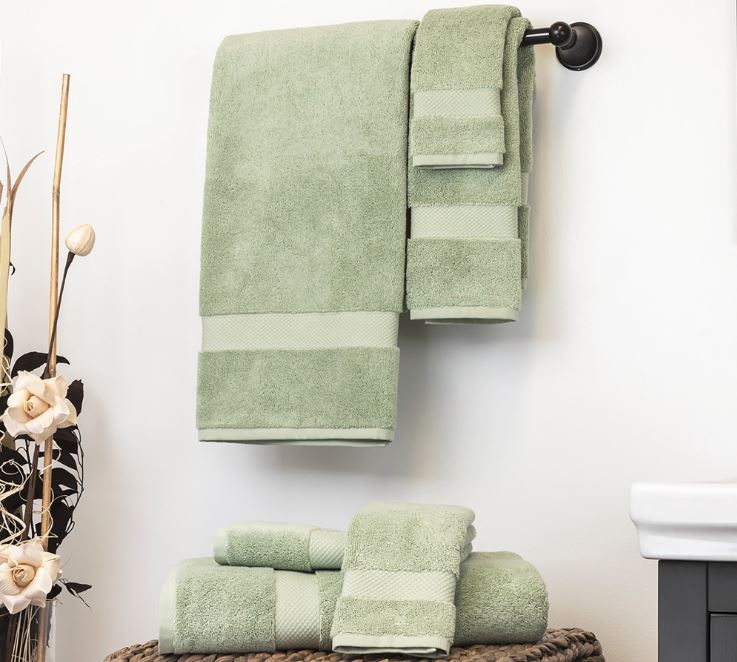 There's nothing more comforting after a bath or shower than a warm, absorbent bath towel to keep you cozy warm, and dry. And, hanging attractive, soft, and plush towels adds a luxurious look to any bathroom. But, there are so many hotel style towels out there. Learn how to choose hotel style towels that will provide you with the warm, soft after-shower wrap you love, and keep its cozy absorbency and beauty for a long time.
What Is a Quality Hotel-Style Towel?
Soft and Absorbent
The best hotel-style towel experience will be with a towel that provides a warm, soft feeling when you wrap up in it. The towel should immediately absorb the bath water on your skin, which will make you feel warmer and dry you off quickly. A quality hotel-style bath towel will have high absorption, but also dry quickly when you hang it up so mold and mildew don't form. Towels made with long fiber kinds of cotton, such as Egyptian or Pima, are softer and more absorbent than short-fiber cotton towels.
When selecting a hotel-style towel in a store, don't go only by how the towel feels. Some inferior brands may add a softener to the material to give it a softer feel on the shelf, but that will wash away with the first laundering.
Durable
Lower-quality bath towels are generally thin, with fibers that are not tightly woven. They may feel good for the first few uses, but they will begin to degrade quickly. This is due to low-quality, shorter cotton fibers that break easily. Shorter fibers cannot absorb water as effectively as longer, unbroken fibers. Lower-quality towels will not have effectively reinforced borders and will fray at the edges. They may be thin or one-ply, and will not be as soft as higher-end hotel quality towels.
The secret to a quality hotel-style towel includes the use of quality materials, and a design and manufacturing process that delivers the durability and performance you are looking for.
How to Identify a Good Hotel -Style Bath Towel

Materials
The best hotel-style towels are usually made with 100% cotton. This is because cotton is highly absorbent and soft. The quality of cotton is important. Cotton with longer, stronger fibers will be softer, more absorbent, and last longer than inferior kinds of cotton. Cheaper cotton non hotel-style towels are usually thinner and are made from cotton with short fibers that break easily.
Long fiber cotton includes Egyptian, Pima, and Turkish. Egyptian cotton fibers are extra-fine, adding extra softness and absorbency. Pima is similar to Egyptian cotton, except that it is grown in the US and is slightly less expensive. Turkish cotton fibers are extra-long. Turkish towels are flat weave, lacking the high loops of other towels. This makes them more compact and lightweight, easy to fold, and able to dry quickly after use.
Dual Core Cotton These yarns have a base of synthetic staple fibers covered by cotton. This combination provides the towel extra strength and durability. Dual-core cotton hotel-style towels are very absorbent and quick to dry.
Rayon, made from bamboo fibers, is another material used for hotel-style towels. Rayon is very soft and absorbent, as well as eco-friendly. It has antimicrobial qualities, making it a good choice for baby care. However, rayon is not as durable as high-quality cotton.
Microfiber hotel-style towels dry quickly and are compact, so they are popular for use at the gym and for travel. However, they lack the luxury feel and absorbent qualities of 100% cotton towels.
Weave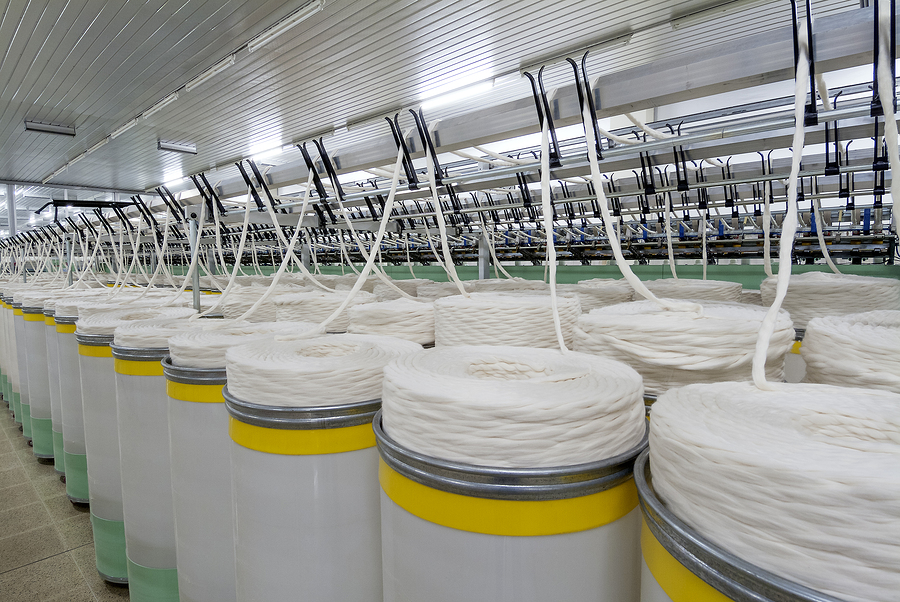 The weave used to produce the towel is important as it determines the feel of the towel, as well as absorbency and durability.
Ringspun Cotton. A technique that increases durability and luxurious feel is ring-spun cotton. Long and short cotton fibers are twisted together, making them longer lasting and adding a plush feel to any quality hotel-style bath towel.
Combed Cotton. With this process, the cotton is combed during the manufacturing process to remove short, broken fibers, leaving the longest and strongest for use in the fabric. This process increases softness and durability and gives a hotel-quality towel a cozy feel. It also reduces pilling on the surface of the towel, keeping it smooth and looking new longer.
Waffle Weave. This weave creates a lovely honeycomb pattern on the hotel-style towel. The raised, repeat pattern creates a soft and absorbent towel with good airflow so that it dries quickly.
Terry Cloth is made by looping the fabric, which raises the surface of the hotel-style towel, making it soft and absorbent. Usually made with 100% cotton, this is a popular weave for bath towel sets and, depending on the quality of the cotton used, is a durable and cozy choice. Terry cloth can occasionally snag because of the high loops.
When choosing a hotel-style towel, check the tightness of the weave. Higher density increases absorbency and indicates higher quality. If you can see through the loops to the base of the towel, it is poor quality.
Finish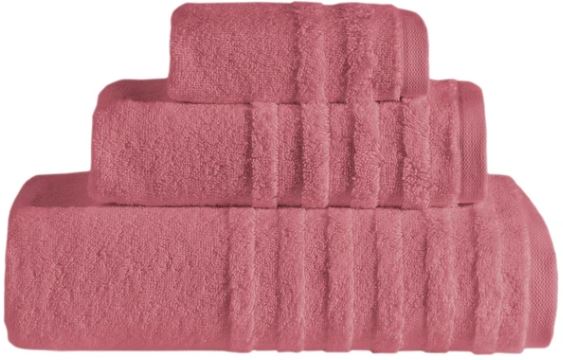 Decorative borders add to the attractiveness of your hotel-style towel. They create a textured pattern on the towel. A cam border is a single, straight-line textured pattern sewn into the towel, usually within a couple of inches from the edge. A dobby border is a more elaborate design and may consist of several bars or patterns textured into the towel's fabric, adding interest and sometimes color to the design.
Check the edges of the towel for a double-looped border all around the towel. This reinforcement means your quality towel is less likely to fray.
GSM
Finally, one last element makes a difference in your hotel-style towel. You will notice some hotel-style towels feel thicker and heavier than others. This is in part a factor of GSM or grams per square inch of fabric. The higher the GSM, the thicker the yarns in your towel will be. Towels with higher GSM and close loop weaves will feel plush, thick, and fluffy, such as spa towels. These towels are durable and feel luxurious, but be aware heavy towels take longer to dry. Usually, a medium-high GSM is a good choice. It will give you the luxury you want with a towel that will dry well after use.
Consumer Safety
Look for hotel-style towels that are OEKO-TEX Standard 100 certified. This means they have been tested and are free of harmful chemicals. You may also see towels that are Fair Trade certified, or towels labeled GOTS (Global Organic Textile Standards) that meet organic and sustainability standards set by that organization.
Beautiful Bath Towels that Last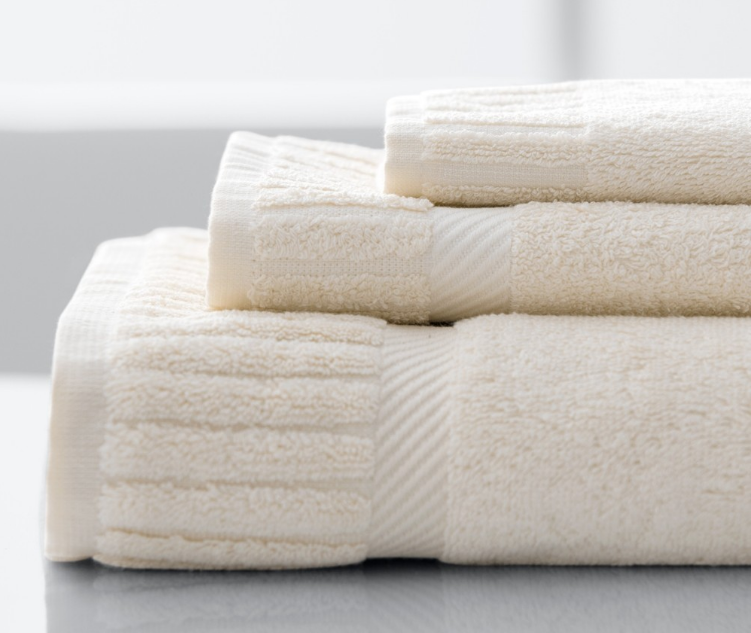 Sobel Westex is a global manufacturer of top-quality hotel linens including hotel style towels, towel sets, pool towels, spa robes, pillows, and bed linens. Our materials are carefully chosen to produce world-class luxury towels that meet the highest standards. We use high-quality cotton, including Egyptian, Turkish, and Pima varieties to produce our best plush, luxury bath towels. You will love the feel and quality of our bath towels that are enjoyed by guests at some of the world's most luxurious resorts and hotels. Browse our towel selection at our online store and see for yourself.