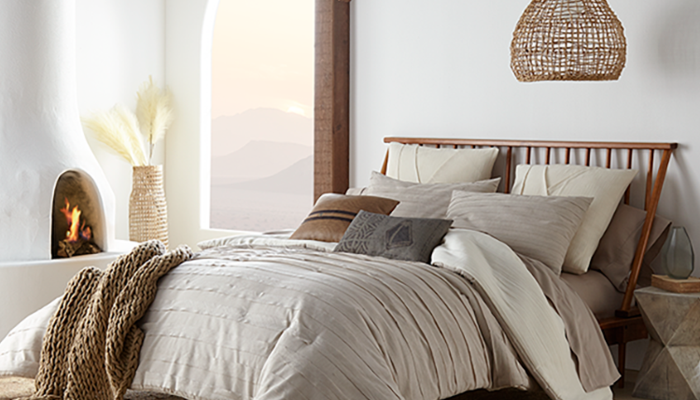 It seems Sobel at Home's new Star Wars™ collection is making a splash among fans and fashion aficionados alike. This mention in Popsugar, a top style, beauty and fashion trends publication adored by millennials, was a great nod to this creative new line. But who says you have to "outgrow your childhood fandom"? We've made it possible to incorporate very grown up quality, beauty and style in your bedding, while also capturing the enduring essence of the Star Wars™ we all love, in subtle nods to its familiar characters and landscapes throughout this stunning Star Wars™ themed bedding and bath collection. This sensational new line of fashionable bedding has already developed an eager following. We are proud to be able to bring this unique and innovative look to those who love Star Wars™ and appreciate the beauty and comfort of high quality linens. 
Let's take a look at the four Star Wars™ designs that make up our collection: The Dark Side, Astromech, Jedi™, and Tatooine™ Collections.
The Dark Side Collection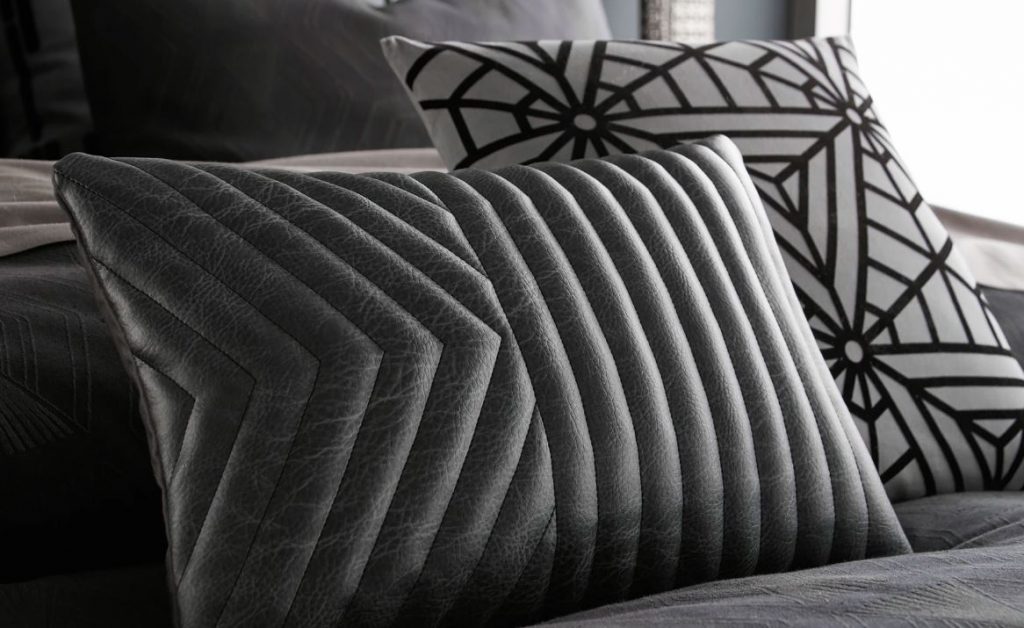 Feel Darth Vader™ vibes with this collection of contrasts in light and dark, opaque and matte. Wrapped in the colors and patterns of the interior architecture details of the Death Star™ space station, you'll sleep soundly in luxurious comfort. The Dark Side, like all four collections, offers a 7-piece Bedding Set, including comforter, pillow shams and two distinctive themed decorative throw pillows, each evoking a familiar element of their Star Wars™ theme. Expand on your theme with a choice of classic sheets chosen to match your choice of Bedding Set. Add a matching thick, ultra-soft, hand knitted Galaxy Throw or a set of luxury bath towels from the Jedi™ Ancient Text Towel collection.
The Astromech Collection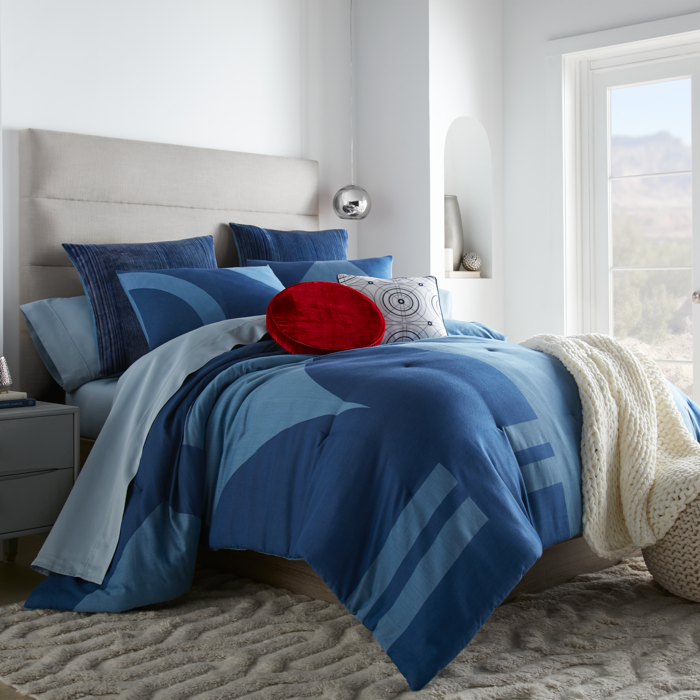 Brighten up your space with the Astromech Collection, a stunning set of bright geometric blues reminiscent of a fan favorite, the loyal and feisty little droid, R2-D2™. Along with the cozy mercerized jacquard front comforter, the set comes, of course, with a "Red Eye" toss pillow as well as an electronic design decorative pillow to complete the theme. Enhance this set with sky blue classic sheets and an azure or light color thick and cozy throw to keep you warm on cold, starry nights.
The Jedi™ Collection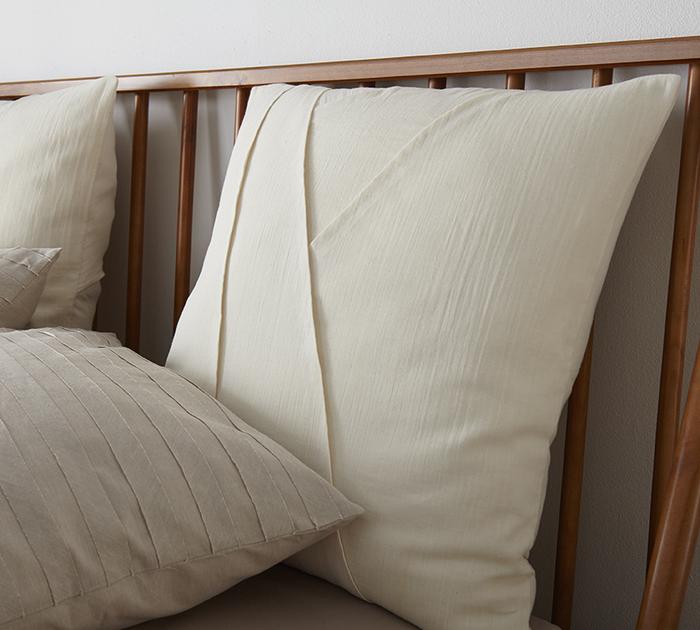 Contemporary and contemplative, the Jedi™ Collection is elegant in its simplicity. The ivory and sand tones of this collection evoke the colors and texture of natural stone. The focused spareness and clean lines resemble the Jedi™ linen kimono. Find relaxation in the calm of the tan and stone color, 100% cotton chambray face and crinkle gauze comforter in the Jedi™ Bedding Collection, which also comes with pillow shams as well as two evocative decorative pillows, one Aurebesh and one faux leather with belt. Expand on the theme with a set of Jedi™ Ancient Text Towels.
The Tatooine™ Collection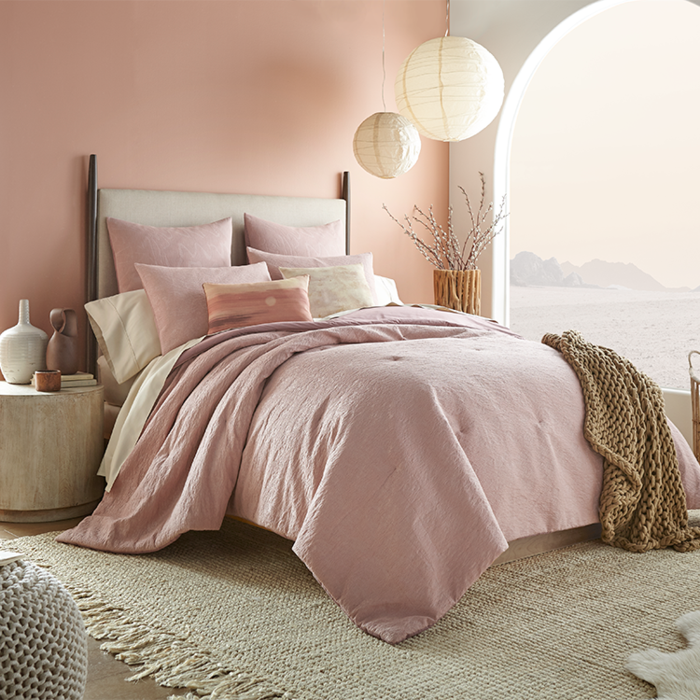 Relax in the gentle, peaceful blush of desert tones of the Tatooine™ Collection. The textured natural look of this set evokes the Tatooine sky and double-sunned landscape of Luke Skywalker's home. Find subtle details of Star Wars™ film lore, like the faded Tatooine™ moon  gracing the gentle pinks and browns of the decorative pillow, available with the Tatooine Bedding Collection or separately in the Decorative Pillow Set. Accessorize with a dune color throw to complete the look. The Star Wars™ Home collection items come in themed reusable, quality totes and storage containers to use at home or take on the road, including a reinforced felt weekender with handle and zipper that comes with each 7-Piece Star Wars™ Bedding Set.
Star Wars™ Home on Sobel at Home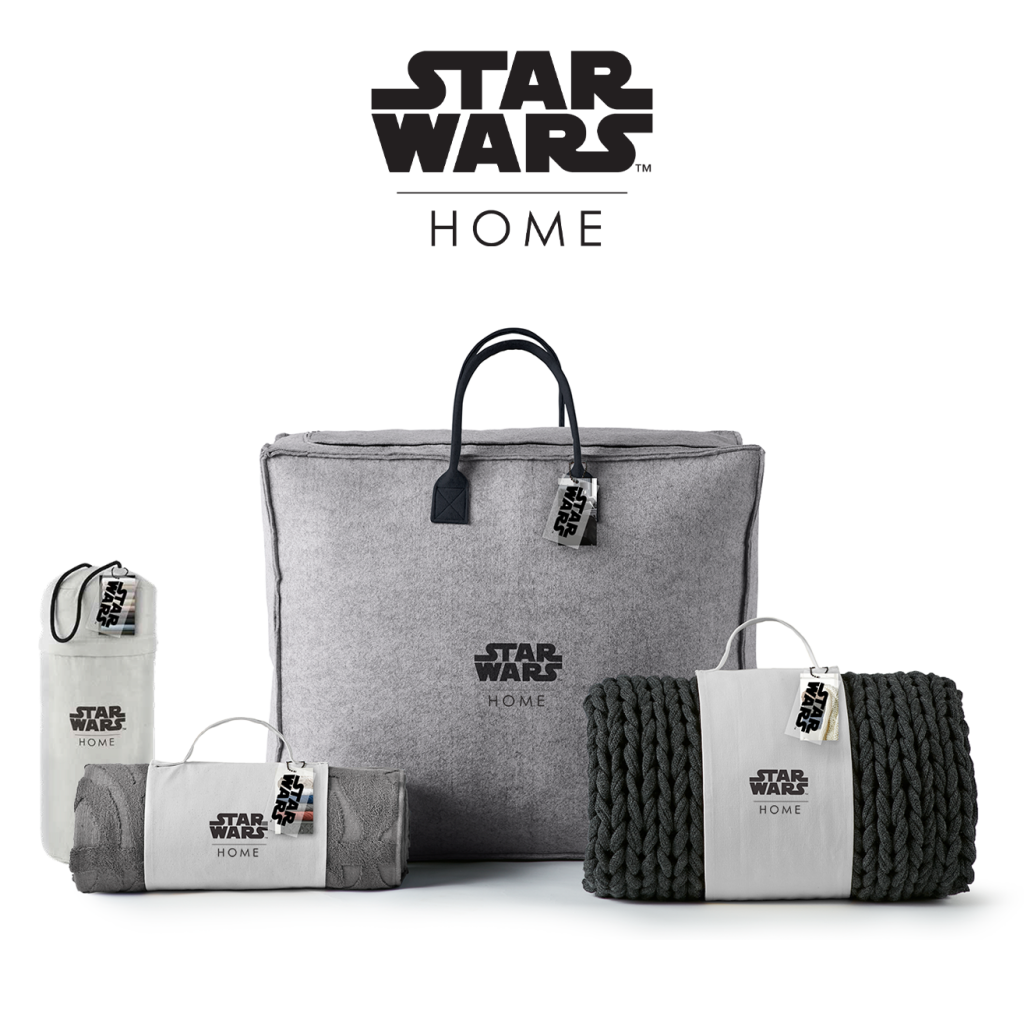 We are pleased our Star Wars™ Home collection has been recognized by Popsugar, but we are even more proud to be able to offer you a collection of fine luxury bedding with beautiful designs in these beloved Star Wars™ themes. Fans are excited to transform their own bedrooms into a retreat themed with their favorite Star Wars™ characters and places. Explore each of the four themes and decide which one speaks to you, or add multiple Star Wars™ themes to your bedrooms, bath and guest room. Be the first in your world to own the new Star Wars™ Home Collection.