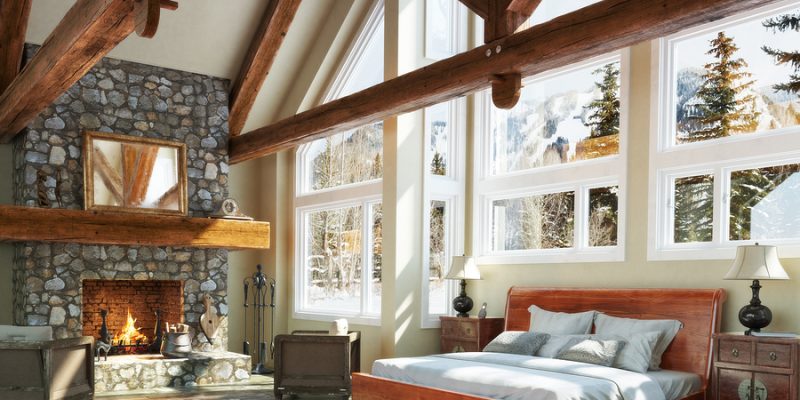 Extra Cold This Year? Here's How to Keep Your Bedroom Feeling Warm at Night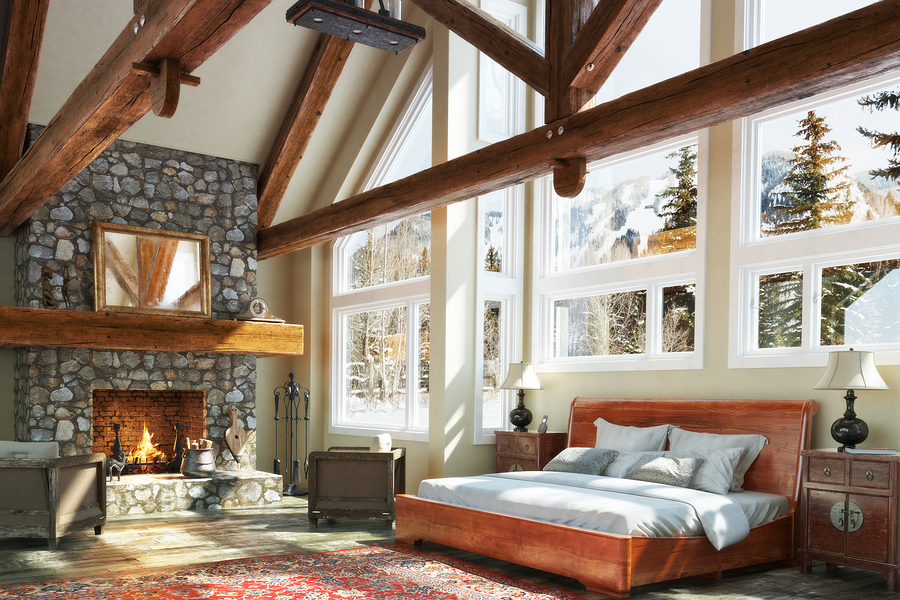 Baby, it's cold outside. Winter is here, and with it comes chilly nights and unfriendly winter winds whipping through the streets. But before you despair of your frozen toes and settle into chilly, sleepless nights, we have some advice for you. By trying a few of these trusted tricks to make your bedroom cozier and warmer for the cold weather, you can turn your previously inhospitable nights into a much toastier and pleasanter experience. Here's what you can do to turn any bedroom into a cozy cave where good sleep comes naturally.
1. Start with Extra Layers of Bedding
According to one study cited by the UK Sleep Council, nearly half of the population sometimes loses sleep because of feeling too cold in bed, especially in the early mornings. So while you may feel comfortable enough when falling asleep, when outside temperatures are at their lowest (usually just before the dawn), and your body temperature plummets from lying in hibernation mode all night, you may wake up and not be able to fall solidly back to sleep because of feeling too chilly. If this sounds familiar to you, you may need to come up with a strategy to tackle those late-night cold snaps.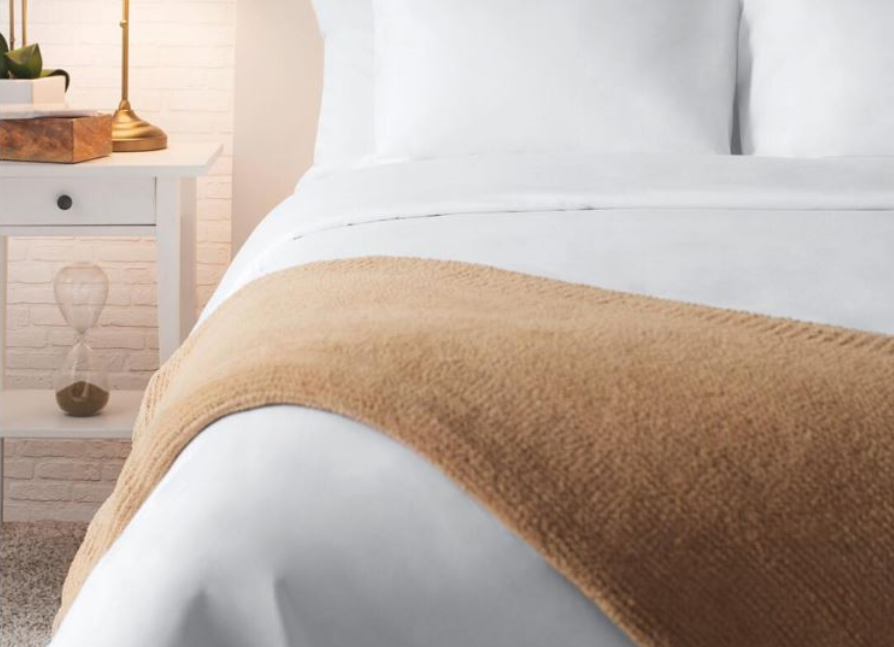 In addition to setting a programmable heater to turn on in the early hours, we also recommend having an extra cozy blanket on-hand to layer up and adjust your temperature.
The Sobellux Fleece Blanket by Sobel at Home comes in five cozy colors, and will give you that extra barrier against the cold layered under or over your existing covers.  Or, Sobel soft chenille blanket's cozy texture will wrap you in warm comfort all night long.
2. Put Some Texture on Your Floors and Walls
Everyone loves wood or tile flooring that's easy to clean, but be sure that, at least for the bedroom, you have a couple of thick throw rugs to cover the floors in winter so your bare feet don't have to touch a cold surface when you step in and out of bed. Wool is a great warm material for a small rug. In summer, roll it up and put it away, unless you have gotten spoiled by the soft fibers that greet your feet every morning.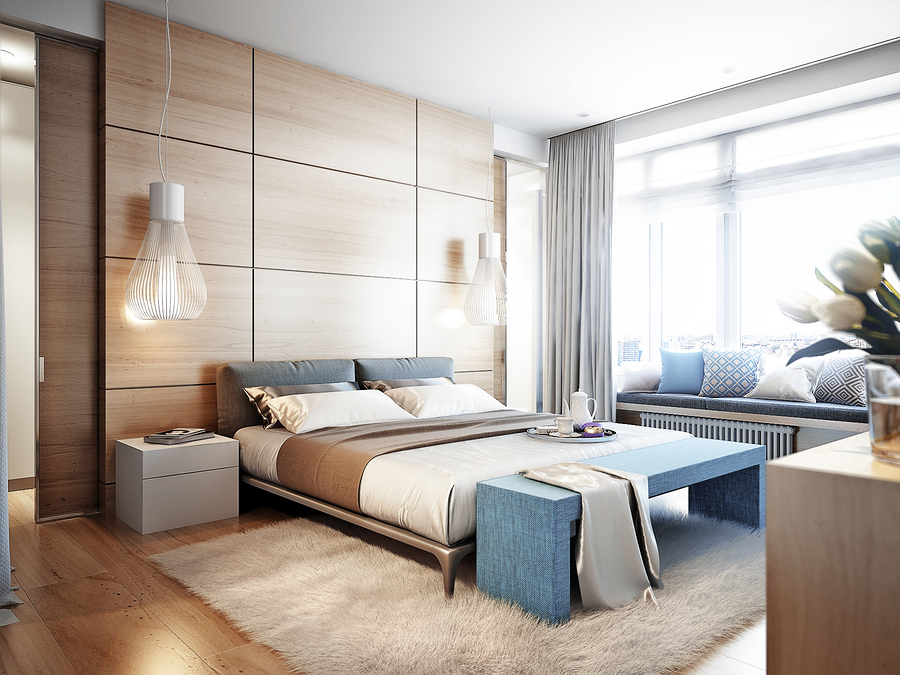 And, for added cozy warmth, and especially if you have thinner walls or insulation issues, why not carry that warm, snug rug philosophy over to your wall décor? Even if you already have a great art collection in your bedroom, incorporating thick, homey textures, like fabric wall hangings can make your bedroom feel that much more like a comfortable cave.
3. Choose Thick Curtains to Help Insulate Windows
Especially if your home has older windows, lots of heat can escape through the glass, and lots of nippy cold can seep in. In addition to adding a layer of special plastic to older windows during the winter months, you can also use a thicker curtain material (preferably of the light-blocking variety) to improve insulation and control light levels in the early morning.
4. Setting the Thermostat or Radiator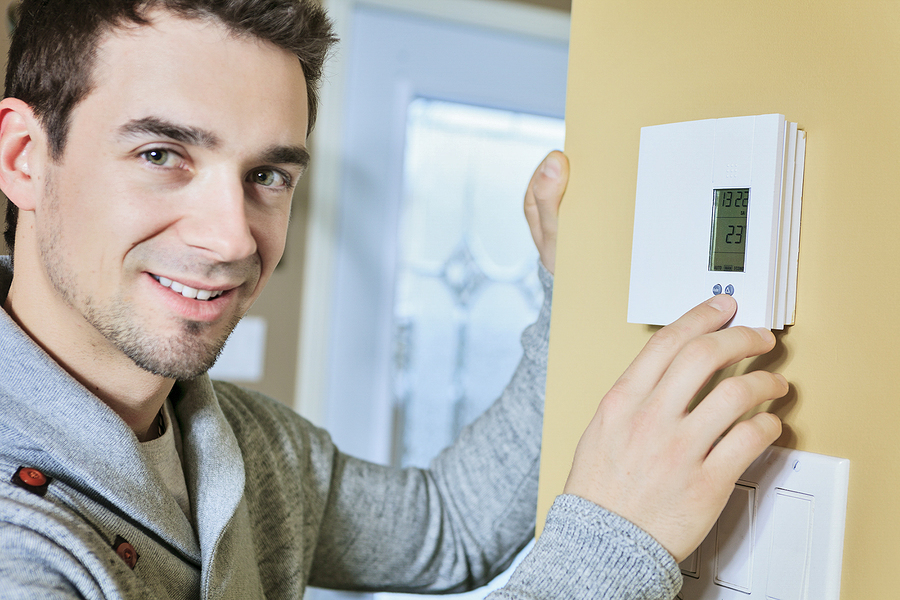 If you have a programmable thermostat or timer, set it to turn on 30 minutes before you have to get up. This will let you sleep comfortably in a cooler room at night, and still feel warm and cozy when you get up. You can use a smart home device to help regulate temperatures around the house (zone controls) to match your routine and save money at the same time. Don't leave your heat cranked up at night since it will result in dry air and congestion, but select the minimum comfortable temperature and set it there. If you are finding your home's temperature hard to regulate, give your energy provider a call. They will often inspect your home for free and give you tips for improving your temperature controls.
5. About Space Heaters
If you have a space heater in your bedroom, it's not a good idea to run it at night for safety reasons. Warm the room before you sleep, then turn it off completely. To retain the warmth as much as possible, deal with any leaky window frames or doors that allow cold air to seep into the room. You can check for leaks by holding a match or candle to the gaps in the frame to see if there is any air blowing in from outdoors. Using thicker curtains, or even actually covering windows with shutters or fabric, is another option to keep out the cold.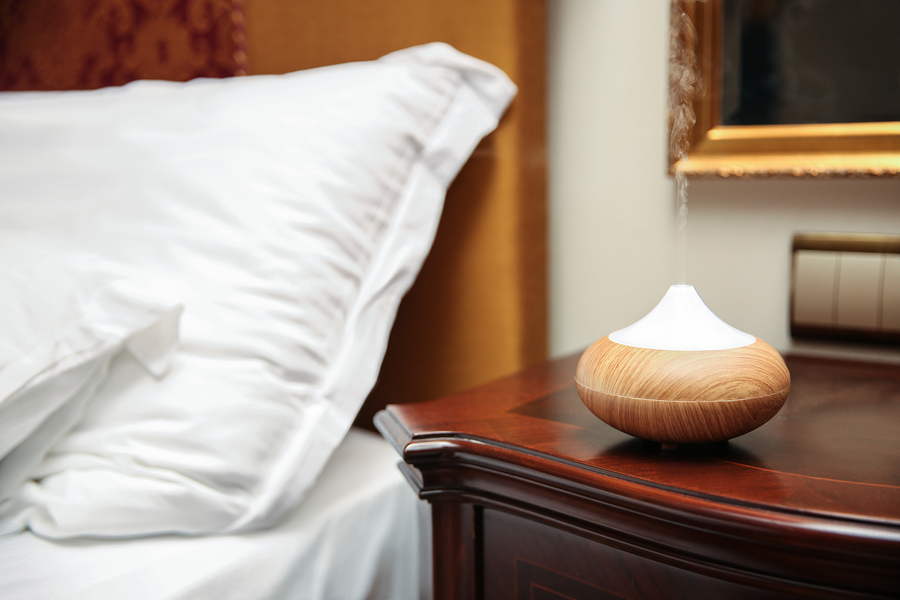 6. Try Essential Oils for Better Sleep
You may have noticed that aromatherapy is all the rage in home décor trends right now. Using something as simple, affordable, and effective as a reed diffuser, you can choose essential oils that smell amazing, and help your body to relax into sleep. Scents like lavender and ylang-ylang in the bedroom will help you sleep, and create a warm feeling in your relaxing bedroom retreat.
7. Embrace the Low Light
With daily sunlight levels at their yearly low during the winter months, you may be tempted to try to make things bright indoors. However, this could backfire if you're bathed in too much brightness too close to bedtime. Try using warm, full-spectrum or soft yellow colored lighting in the bedroom, to help your body get ready for sleep. Use a bulb wattage of 40 to start with, and, though they won't add actual warmth to the air, the relaxation factor will help you be ready to snuggle into warm covers. Adjust your bulb wattage up or down depending on what feels warm and cozy to you.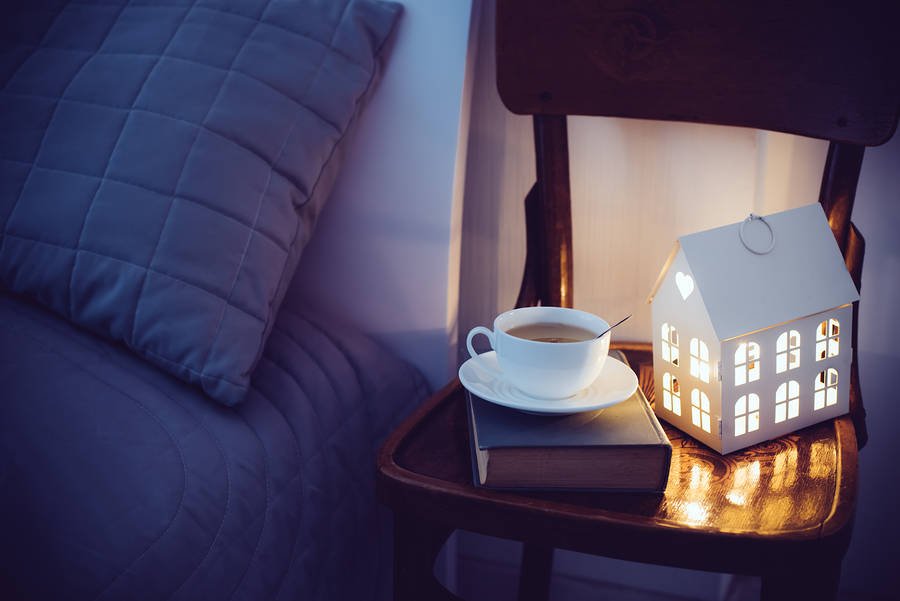 8. Herbal Teas Warm and Relax
On cold winter nights, get a headstart on the cold by taking a cup of herbal tea to bed with you. Chamomile, lavender, peppermint or "sleepy time" teas that blend the best combinations will leave you warmer, relaxed and ready to sleep. Avoid black or green tea at night as those contain caffeine.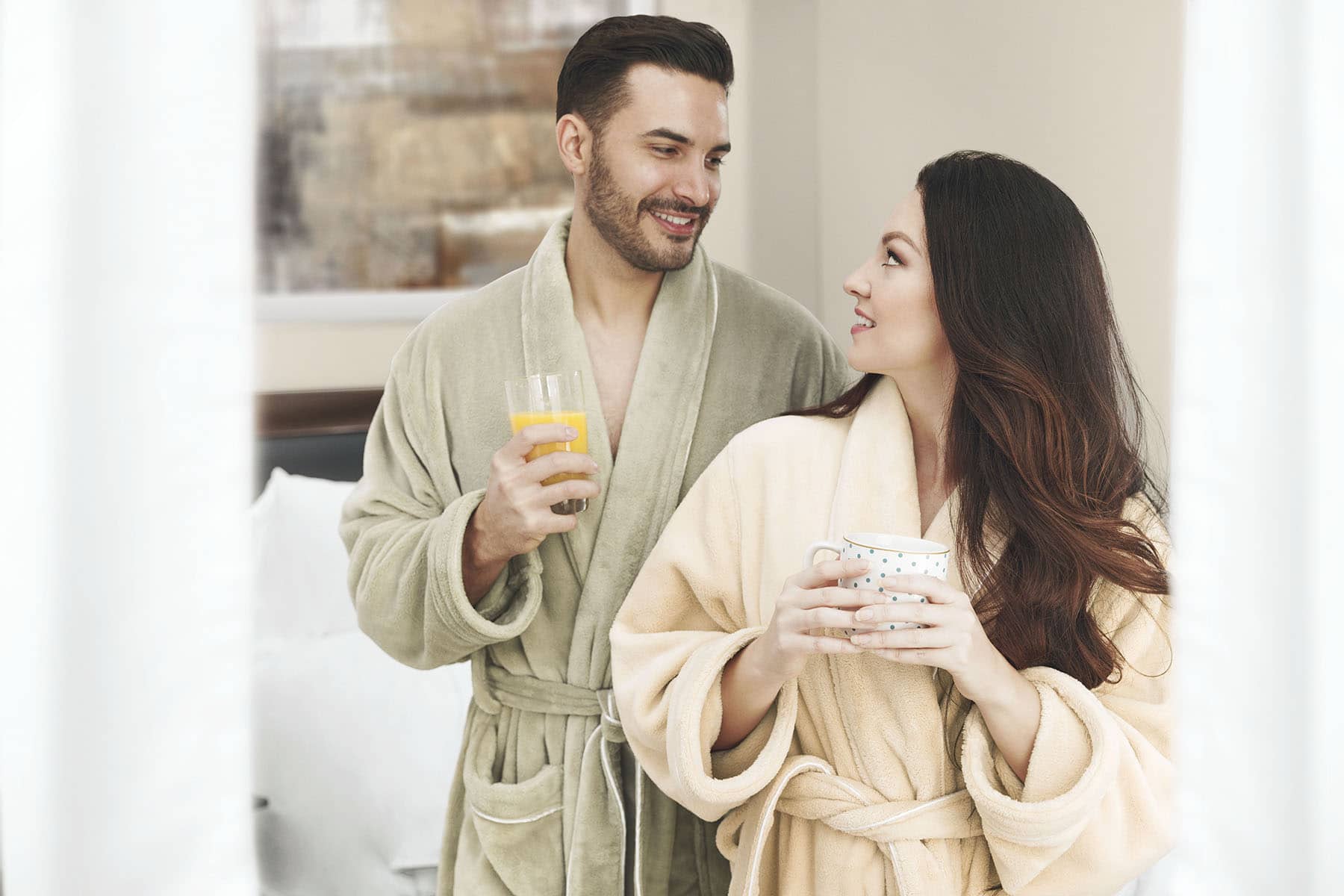 9. Wrap up in a Warm Robe and Slippers
There's nothing more relaxing than coming home to slip into your favorite warm robe and slippers. In winter, these essentials can help keep the chill out any time of day, but are especially great to warm you before bed and first thing in the morning. Great for lounging or working on your laptop, layer your favorite robe over your sweats to get extra warmth on chilly days and nights. Keep your feet warm at all times with a good pair of bedroom slippers as cold feet will spread the chill. Before bed, slip into a warm tub and then wrap up in a thick resort quality robe and you'll feel warm, relaxed and ready for a great night's sleep no matter the weather outside.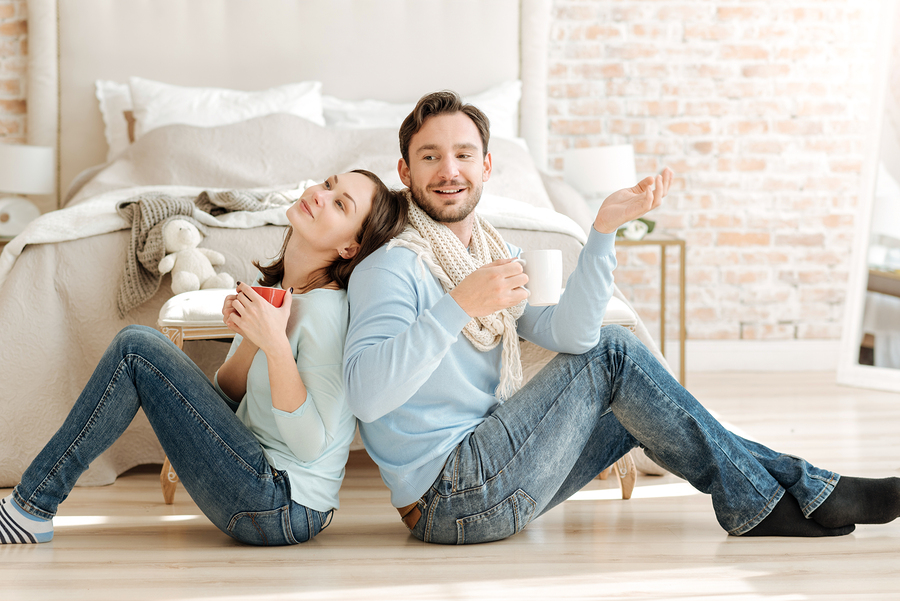 10. Make Your Winter Bed Warm and Inviting
Want your bedroom to look warm and inviting? Your bed is the centerpiece of the room. Giving it a cozy look in warm colors and extra layers will give a warm feeling to the whole room. Mix and match blankets, coverlets and comforters. Add a selection of pillows to sink into for comfort, lounging and of course, sleeping. A down mattress topper will add a warm layer below. Top it all off with a stylish throw that can double for extra warmth in the night. Your bedroom can be a cozy retreat from the winter cold and give you a warm place to dream about spring.