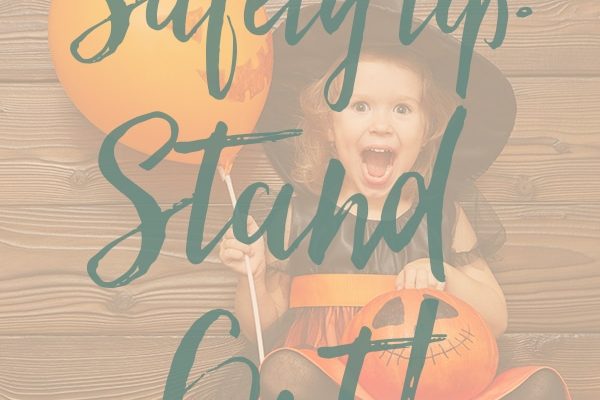 Halloween Safety Tips
Halloween is only a couple days away. We want you to have the best time with the kiddos, and that's why we're excited to share some safety tips. These small considerations and preparations are sure to keep the terror goblins from ruining the memorable candy hunting adventure with your little Doctor's, Superheroes, Zombies, Princesses, and more.
Tip #1: Routes Matter!
Always trick-or-treat with your kids or assign another trusted parent who is watching over a small group. Trick-or-treating is the most fun as a group, but that can mean less attention for each Halloweener. A good ratio is 3 kids to 1 parent.

Plan a familiar route, preferably in your neighborhood, where you're more likely to recognize and know your neighbors.

Choose well-lit paths, and avoid isolated homes or areas that are lacking in Halloween activity.

Be sure to pack a flashlight. You can also purchase mini flashlights that can easily be worn on a child's wrist.
Tip #2: Have the Safety Talk
From younger children to teens, give them the safety talk: practicing their "No!" loudly, and remembering the "Stranger Danger" tips you've discussed before. For teens, remind them to have their phones ready, to be mindful of their surroundings, and to never be talked into going somewhere.

Give them whistles they can wear around their neck or wrists and use if needed.

For younger children who can sometimes stray, it doesn't hurt to give them a bracelet or necklace with your phone number. You can also teach them to call 911 in an emergency or in case of separation.
Tip #3: Stand Out!
Glow sticks are super fun, and also a great way to keep your kids from blending in with the crowd. It can be hard to spot them in disguise, especially in a crowd full of other costumed children.

Another option is to fasten reflective tape onto costumes or bags to ensure drivers can easily spot them on the road.
Tip #4: Dress Comfortably
Chilly nights can lead to runny noses that could easily turn into a cold. Be sure to dress for the weather! Before heading out, check the temperature and weather conditions. Bundle up if needed, or bring an umbrella if rain is likely.

Wear comfortable shoes. As cute as those Princess heels can be, they are sure to end the night early when their feet gets too sore. Bring along extra pairs of comfortable shoes.
Tip #5: Candy Galore!
Bags full of candy and treats can lead to tummy aches. Having a hearty dinner will not only ensure they have the energy for an evening of adventuring but can prevent them from overeating sweets.

As thoughtful as homemade treats can be, unless you know who gave the treat, we recommend avoiding them altogether. Only eat goodies wrapped in commercial packaging.
We hope you have a safe and wonderful Halloween, filled with laughter and fun, galavanting with other ghouls and Superheros.