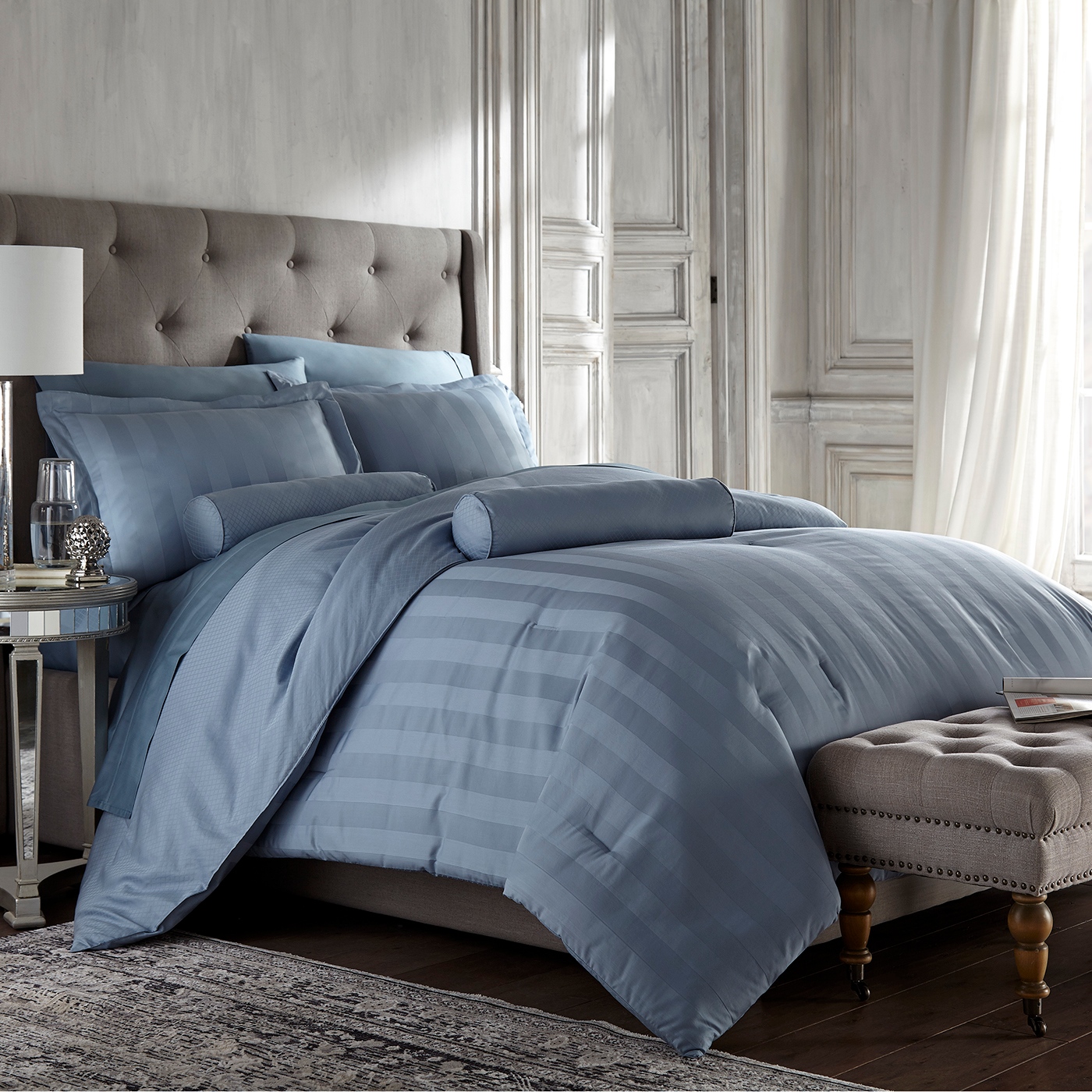 A beautiful new comforter or bedding set can change the whole look and mood of your bedroom. The right colors and design, along with that fresh, fluffy new comforter look, can make your bed look and feel great. So, toss your old, worn comforter and replace it with a new one that is fresh, bright, and looks fantastic on your bed.  But how do you keep it looking great for a long time? Here are some tips on keeping your comforter looking like new.
Here are some bedding maintenance tips we cover in this post:
Are you satisfied with your current comforter? Is it time to buy a new one? Let us know in the comments which tips you found useful!
Bedding Maintenance
Proper bedding maintenance is essential for preserving the quality and longevity of your bedding. By following simple cleaning strategies and care techniques, you can ensure that your comforter and other bedding items remain fresh and comfortable for years to come.
Tips for Keeping Your Comforter Clean and Undamaged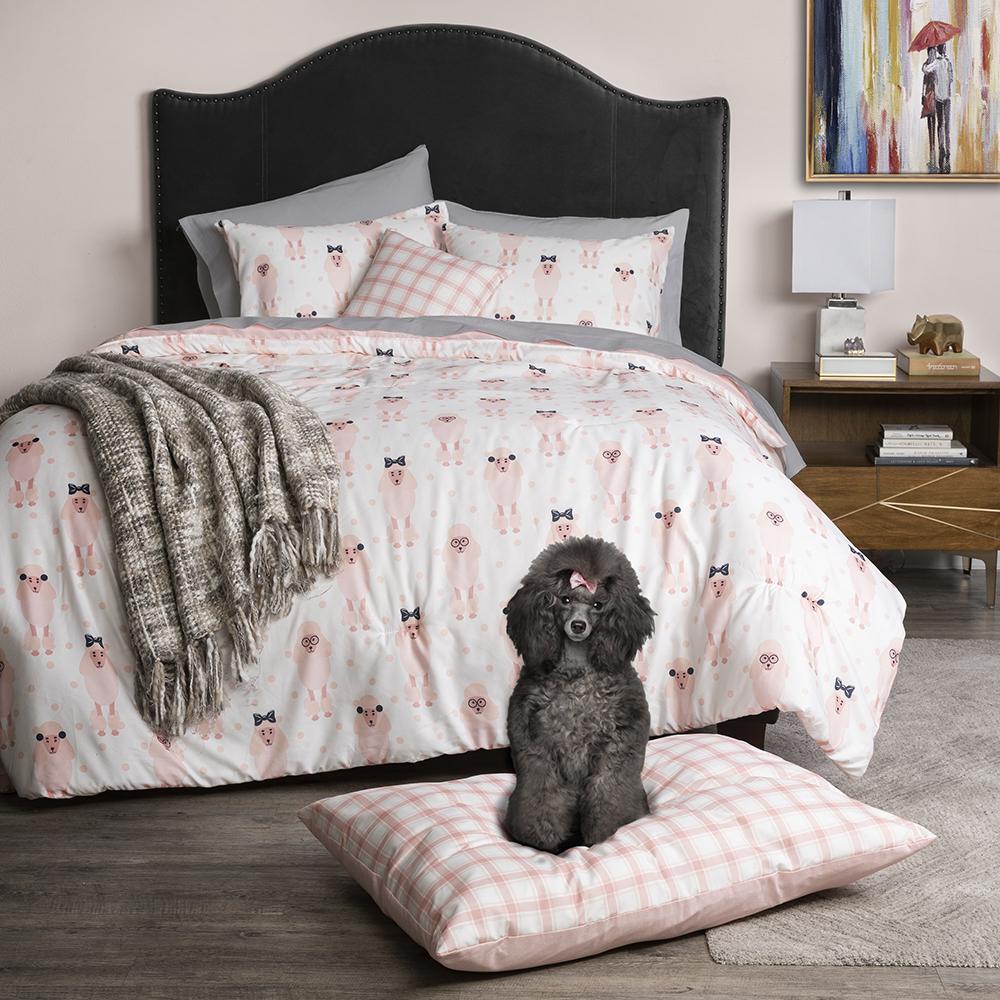 Roll It Down When Lounging on the Bed
One easy habit that helps keep your comforter clean is to simply make it a habit to roll it down to the foot of the bed if you are lounging, watching TV, or letting a pet onto the bed. This will keep it clean and out of danger from spills, tears, spots, and stains.
Don't Eat in Bed
Eating and drinking in bed are responsible for a lot of unnecessary stains and damage to bedding. Even crumbs will leave stains that may not easily wash out. Make it a habit to eat your bedtime or midnight snack in the kitchen or on the sofa, and not in bed.
Limit Pet Access to the Comforter
Pet claws, fur, dander, or dirty paws can cause a lot of damage to bedding. Protect your comforter by limiting pet access to the bed. If they do join you in bed, wait to let them up until you roll down or cover up the comforter first.
Wash Face and Hands Before Sleep
Skin oil deposits may damage bed linens over time. While you sleep, the oil from your skin seeps onto and into pillows, sheets, and onto your comforter. Wash up before bed for the best chance of keeping things fresh. Change sheets and pillowcases frequently to limit contamination. Avoid sleeping on the comforter itself.
Cover Comforter with a Duvet or Throw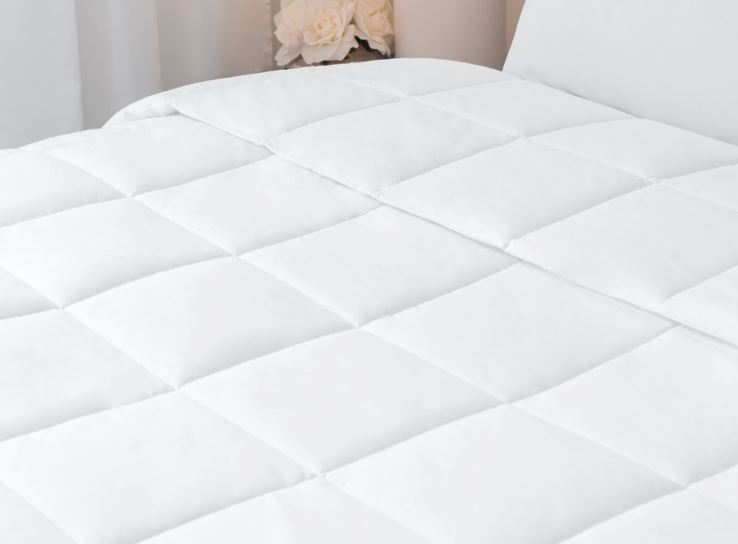 A cozy duvet or throw can look great atop a comforter and will help keep it clean and looking like new. Leave it on all the time, or just add it whenever you plan to sit on the bed. Choose a cover that is relatively heavy and will cover most of the top of the bed. This way, it won't be easily knocked out of place.
Fluff in the Dryer
If your comforter begins to flatten out or develops wrinkles, throw it into the dryer on low heat just long enough to fluff it out again. Don't do this if the comforter is dirty or stained. In that case, wash the comforter first.
Storage
When not in use, store your comforter in a place with some ventilation. This will help keep it smelling fresh. Don't store your comforter in a plastic bag as this will restrict airflow, allowing mildew and odors to build up and may cause discoloration.
Washing Your Comforter

Wash Comforter Regularly
Cleaning your comforter a few times a year will help remove not only spots or stains but also dust, oils, and other contaminants that, over time, can set in and dull the look of your comforter. Don't wash your comforter too often, however, as the process may cause the filling to bunch up over time. A seasonal wash is usually enough to keep a comforter fresh.
Cleaning Stains
If you are dealing with a stain, proper bedding maintenance includes spot cleaning your comforter. The first step is to move the filling away from the stain as much as possible, keeping it dry and clean. Use a small amount of gentle stain cleaner or a baking soda-water solution to treat the stain. Gently rub the material together to lift the stain, then blot with a clean wet cloth and soak up the solution with a dry towel. Allow the comforter to air dry or proceed to a machine wash as part of your bedding maintenance routine.
Machine Wash Your Comforter
Here are a few more tips for bedding maintenance to keep your comforter in optimal condition. Before starting, always check the comforter's wash instructions. Typically, washing in warm water on a bulk setting with a gentle detergent is recommended. Avoid using too much detergent to prevent dulling build-up on the fabric.
Drying your comforter is an important step in bedding maintenance. Use low heat in the dryer and periodically rearrange the comforter to ensure even drying. To help fluff out the comforter, consider adding a few clean tennis balls to the dryer. If the comforter is still slightly damp after the drying cycle, consider hang-drying it to avoid over-drying
Do Not Dry Clean
As part of proper bedding maintenance, it's best to avoid taking your comforter to a dry cleaner. Dry cleaning chemicals can be toxic and may compromise your sleeping environment. If your washing machine is too small for the comforter, consider taking it to a laundromat with high-capacity washers and dryers specifically designed for large bedding items.
Buy a Quality Comforter
By following these bedding maintenance techniques, you can extend the lifespan of your bedding and enjoy fresh, comfortable nights for years to come. However, one of the best ways to ensure your comforter will last and retain its original beauty is to buy a quality comforter in the first place. Look for comforters with a thread count of T300-T600. These fabrics will be softer and more durable, and the tighter weave will prevent filling, including down or feathers, from escaping.
Quality Comforters from Sobel at Home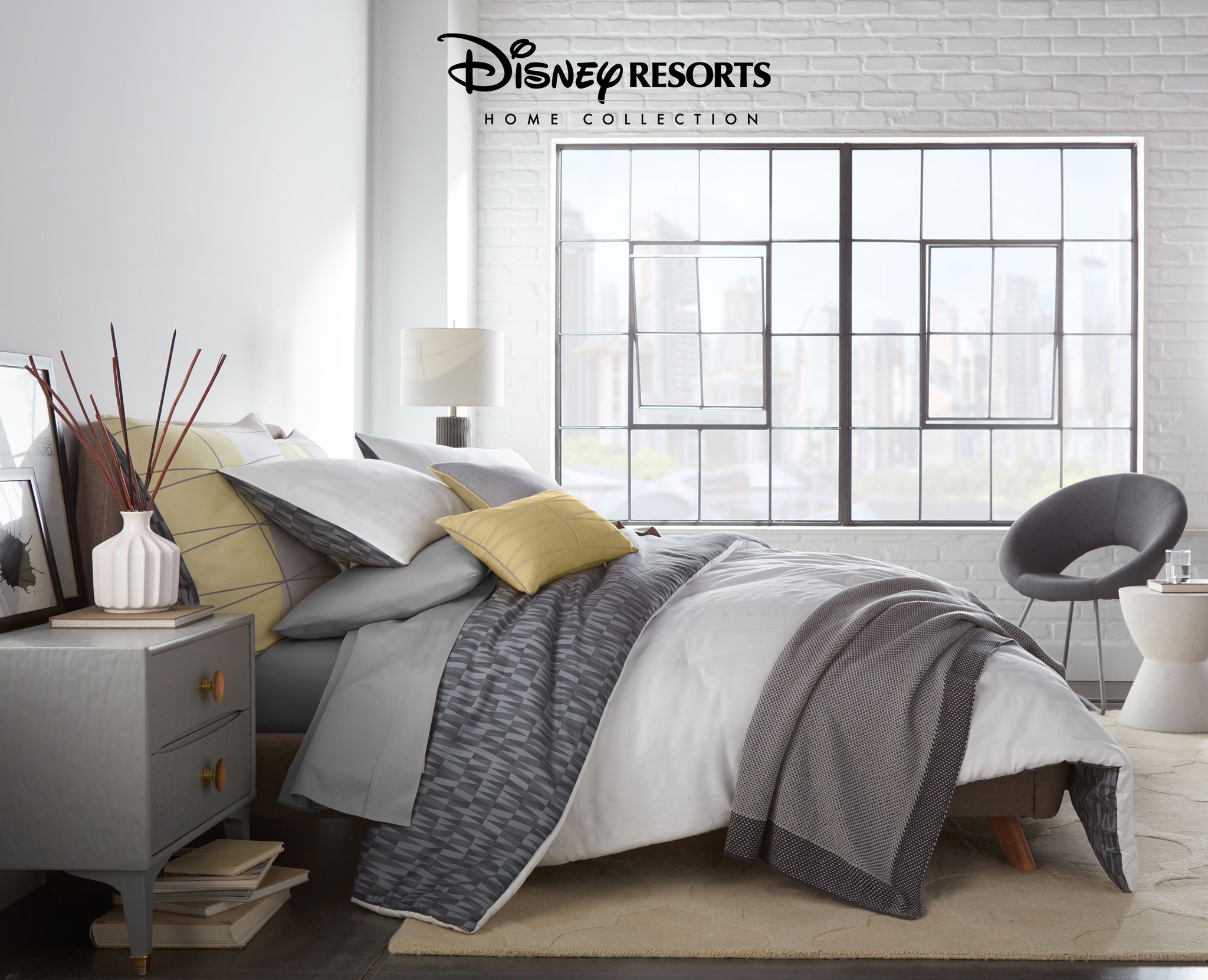 For decades, Sobel Westex has been creating and delivering luxurious, quality bedding for luxury hotels and resorts around the world. At Sobel at Home, we make many of these beautiful products available to the public. Our designer quality comforters include our reversible Resort comforter sets, available in white, gray, navy and light blue. We also offer amazing and unique branded collections, including Disney Resorts Home, Star Wars Home and Hard Rock Home.
Disney Resorts Home
Among our Disney Resorts Home Collection, you will find the exquisite Disney Resorts Home Metropolitan bedding set, featuring a T300, 100% cotton, jacquard design comforter. The comforter is reversible, with one side in stunning white and the other a sophisticated gray pattern. The 7-piece set comes with two pillow shams and two Euro shams, as well as two distinctive decorative pillows. Other Disney comforter sets include the equally magical Garden Trellis, Zulu and Island Palms bedding collections.
Star Wars™ Home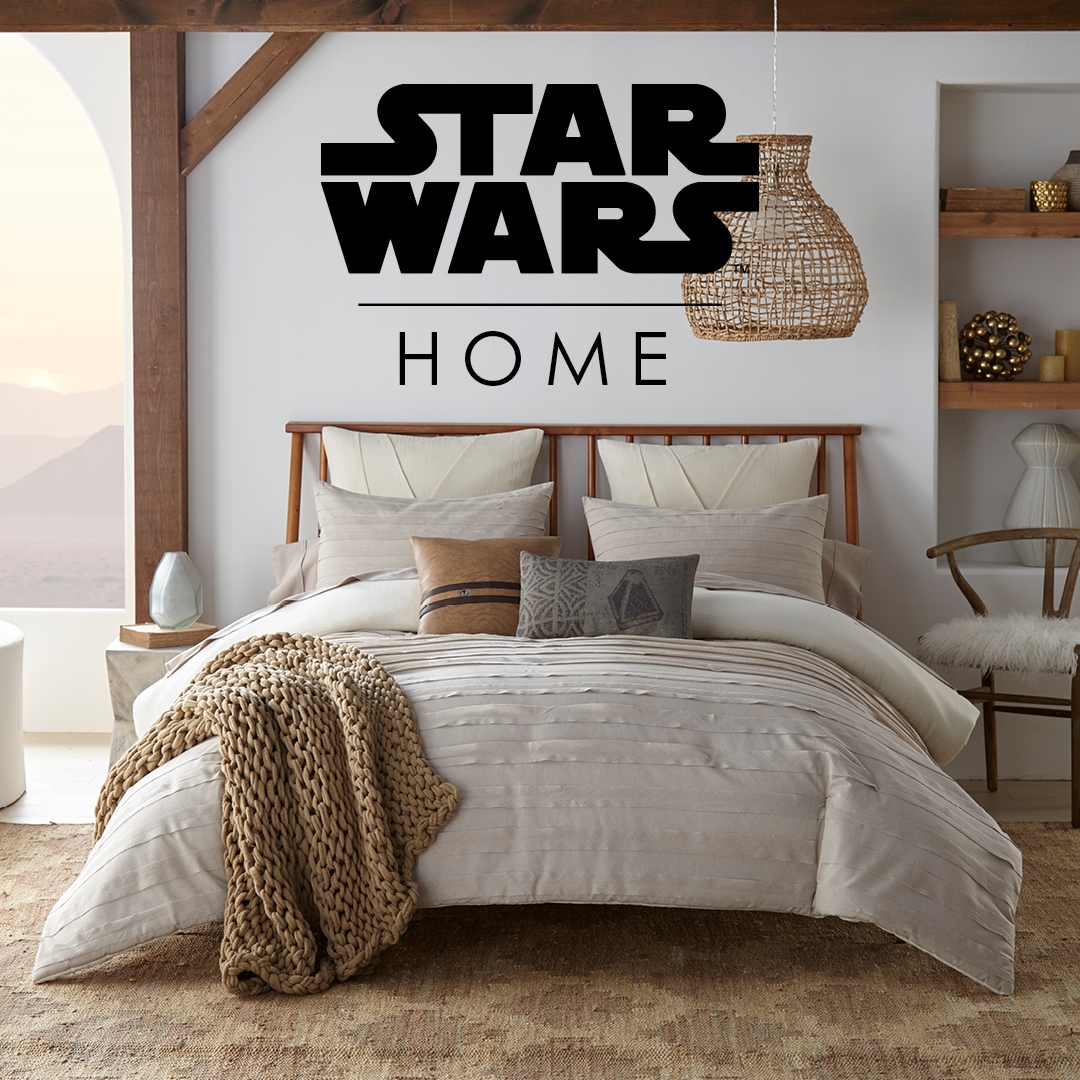 Whether you are a Star Wars™ fan or simply looking for unique and stunning bedding sets, our Star Wars™ Collection will make your bedroom look out of this world. These Star Wars™ themed sets are exquisitely designed to bring beauty and tranquility to your bedroom. For example, the Jedi™ Bedding Collection offers the simplicity of gray and white, with Jedi-style kimono-patterned pillow shams and subtle, earth-toned decorative pillows, one a soft brown in faux leather. Visit all four of our Star Wars themed bedding sets for more choices reflecting your favorite characters and themes.
Need sheets and pillows to complement your new comforter? Visit sobelathome.com for all your quality bedding needs.