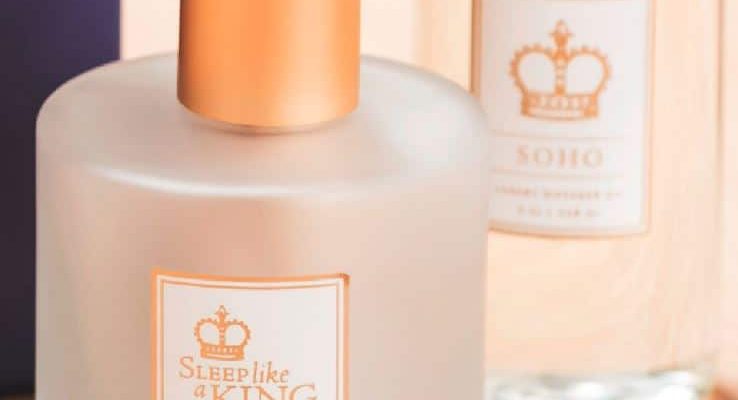 Use a Reed Diffuser to Freshen Your Home for Fall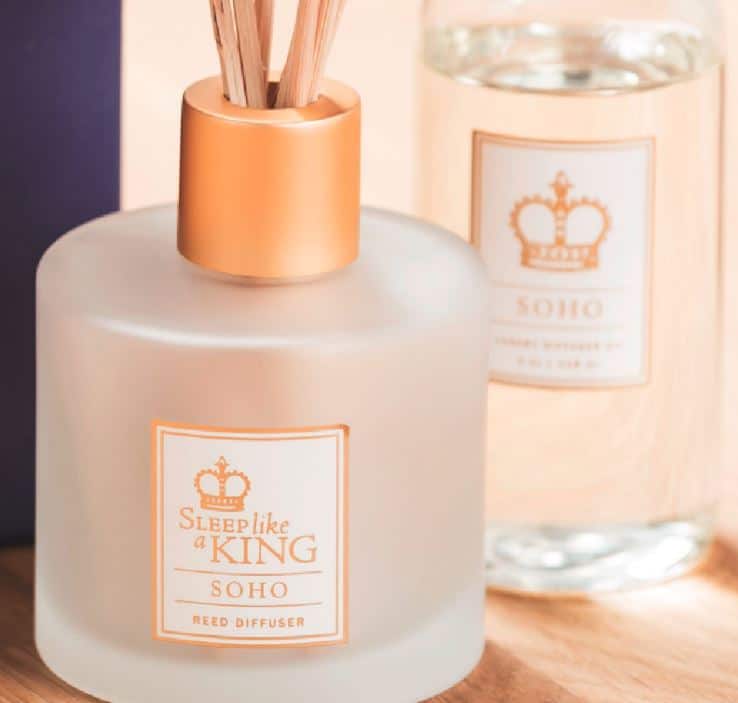 It's hard to believe, but the holiday season is just around the corner. Days are getting shorter and the air is colder. That means you're probably going to be spending a lot more time indoors. Now's a great time to make your home a bit cozier, and transform it into a place to relax and spend some quiet time with family and friends, or just snuggle up with your grateful puppy and a good book.
Where to start? There are a lot of different ways you can update the look and feel of your space. Along with some warm slippers and a comfy robe, a cozy wool or afghan throw or blanket and your favorite coffee or tea, give your home a delicious, inviting scent that spreads warmth and relaxation throughout the house. This is where carefully chosen air fresheners and aromatherapy oils come into play. While there are a wide range of aromatherapy choices available, among the most popular, simple and long-lasting options are reed diffusers.
What are reed diffusers?
Reed scent diffusers use short (usually 8") rattan or bamboo reeds, a type of naturally wicking stick, inserted into a narrow necked bottle to slowly soak up essential oils and perfumes. The reed slowly draws the scent out of the bottle and disperses the aroma through the air. This slow process lets diffusers give off a subtle and pleasant scent. Reed diffusers provide a similar effect as a scented candle, but without having to worry about a flame burning. In addition to being natural and long-lasting, these products are both safer and more convenient than scented candles because they can be used in a wider variety of locations. They're perfect for use in places like an entrance hall, bedroom, or bathroom. Reed diffusers are also a good match for waiting rooms or to freshen up guest rooms. Finally, you can leave these while running errands and come back to a freshly scented space.
How do you use a reed diffuser?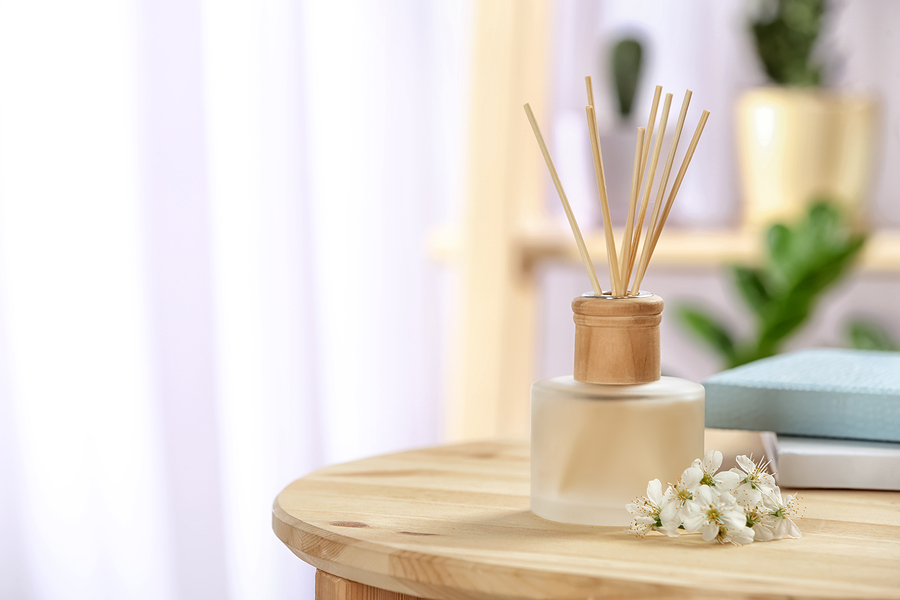 Reed diffusers are among the easiest aromatherapy products to use. Some diffusers come in a kit with the aroma oils and reeds kept separately. In this case you simply need to add a few drops of the oil to the reeds and store the remainder in a cool, dark area. Then you can re-apply oil as needed.
Other diffusers have the oil already packaged in. Here, all you need to do is remove the stopper. Once in a while, flip the reeds upside down to refresh their scent.
With either style, remember to use a coaster or mat underneath the diffuser to protect against any spills.
How long does a reed diffuser last?
The reeds should be flipped every one to two weeks to ensure the strongest aroma. While the reeds can be refilled and flipped many times, eventually they may need to be replaced. If you notice that the scent isn't as strong as it used to be, check the neck of the bottle and the reeds to see if they are clogged with dust. Replace the reeds once they are too saturated to be able to give off enough scent.
What else?
For best results, use the reeds only with one particular scent. If you change to a new oil scent, start with a fresh set of reeds. Since the reeds absorb aroma, old and new smells may not mix well together. Also, never dilute the scented oil with water. The reeds will not absorb and disperse this mixture correctly, and you'll likely need to replace them.
An Exotic Collection of Sobel Reed Diffuser Scents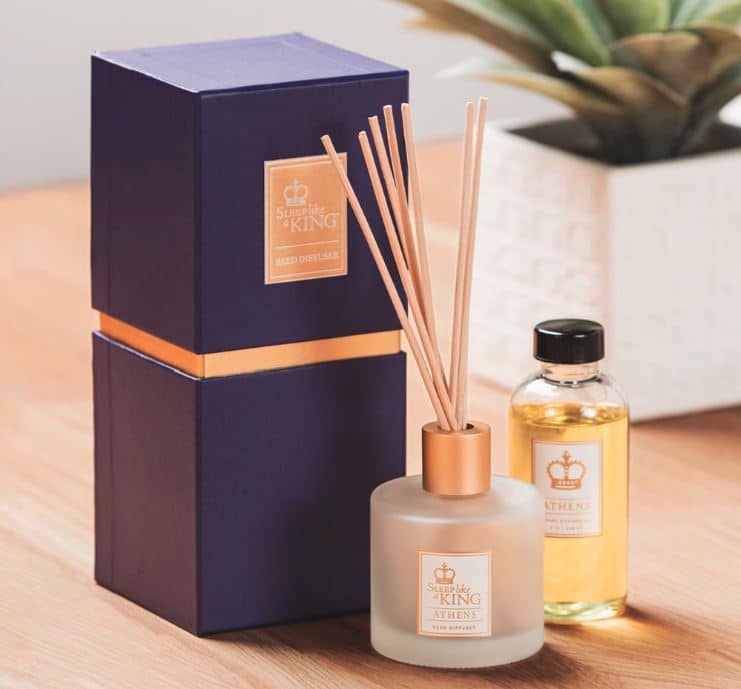 To capture the right atmosphere in your home, choosing the right scent is important. You may fall in love with one scent, or enjoy changing them up according to the mood or occasion.  Looking for a bit of adventure to spice up your home during the dark days of winter? Sobel's reed diffusers place an emphasis on bold and exotic scents, inspired, like our fine line of luxury hotel and resort bedding, by destinations from across the globe. Here are some of our most popular:
Sandalwood and Acacia – the sophisticated and upscale aroma of Soho

Athens – warm amber notes mix with the delicate scent of garden flowers

Tahiti – spicy, exotic, and with deep floral notes

Saint-Tropez – fresh as an ocean breeze with bergamot and jasmine undertones

Beijing – a rich mix of tea leaves, ginger, and a touch of lavender
A reed diffuser is an easy way to add a special touch to your home, no matter your decor or time of year. Stock up for yourself or give them as gifts for the holidays. Now, relax and breathe easy as you dream away the winter and enjoy the gentle, exotic aromas of your reed diffuser collection.