Easy to Make Face Mask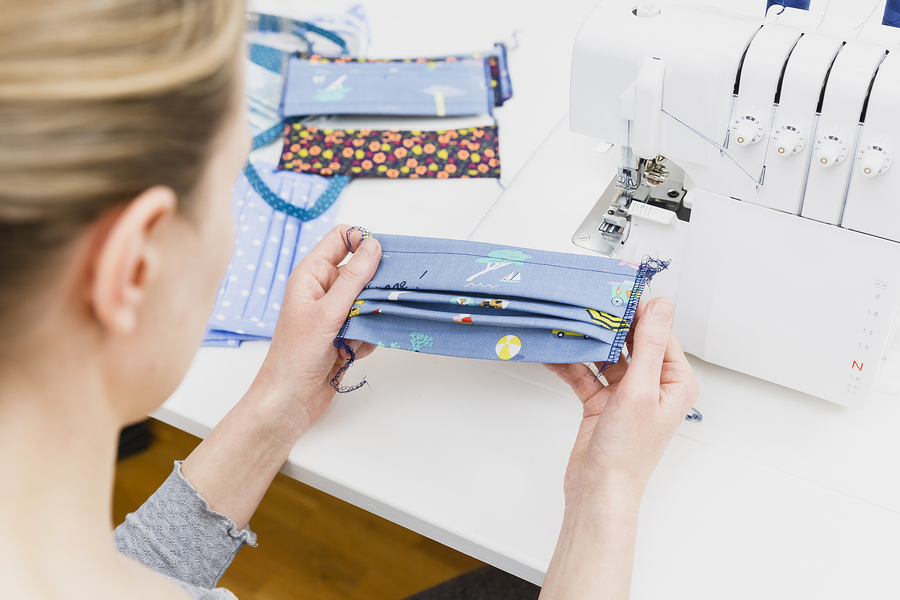 The Centers for Disease Control and Prevention recently recommended the use of face masks for people who must spend time in places where social distancing is a concern. The CDC reminds us surgical masks and N95 masks should be left to medical professionals and to those who actively work with the COVID-19 virus. So what does this mean to most of us? 
It means we need to find or make our own face masks out of materials we have on hand or are able to readily purchase. While these non-medical masks do not protect from the COVID19 virus, they do slow our ability to pass it along to others. If we are all wearing face masks when in public, we will be slowing down the spread of the disease.
Face masks can be made from many materials you have at home. Everyone has bed linens at home that can be used to make easy to wear face masks for the whole family. Generally, sheets and pillowcases contain a large percentage of cotton, which is a comfortable and breathable material for a mask. Here's how to make your face mask quickly and easily at home from old sheets or pillowcases you have on hand.
Thread Count Matters
When making your own face mask, you want to find a material that is tightly woven for the best filtration to keep more small particles from passing through tiny gaps in the fabric. Find a sheet or pillowcase fabric that has a thread count of 180 or higher.  Many quality pillowcases and flat sheets have thread counts higher than 180, sometimes up to 600 to 700. If you don't know the thread count, hold the fabric up to the light.  You should not be able to see light through the woven fibers. Select a pattern or color you won't mind wearing. Face masks should be washed frequently and can be reworn for all occasions!
Comfortable Materials
Now that you've found your material, a good size for face mask fabric cutouts is 6 inches by 9 inches. A second material can be inserted into your mask to provide a filter.
Use a second type of fabric as an optional filter. Your filter must be sandwiched between your two layers of fabric to ensure you don't breathe in particulates that could make you sick. Recommended household materials for make-shift filters include HEPA vacuum cleaner bags, a coffee filter or a section of reusable grocery store bag (the heavy plastic-like tote bags that typically cost between $1 and $2).
The last items you will need are two elastic bands that measure 7 inches long and are no wider than one-half inch. This makes the band comfortable to wear over the ears without pulling too tightly or hanging too loose.  These are the only materials you will need. A sewing machine or hand sewing are both fairly easy to do to complete your mask.
Making your Face Mask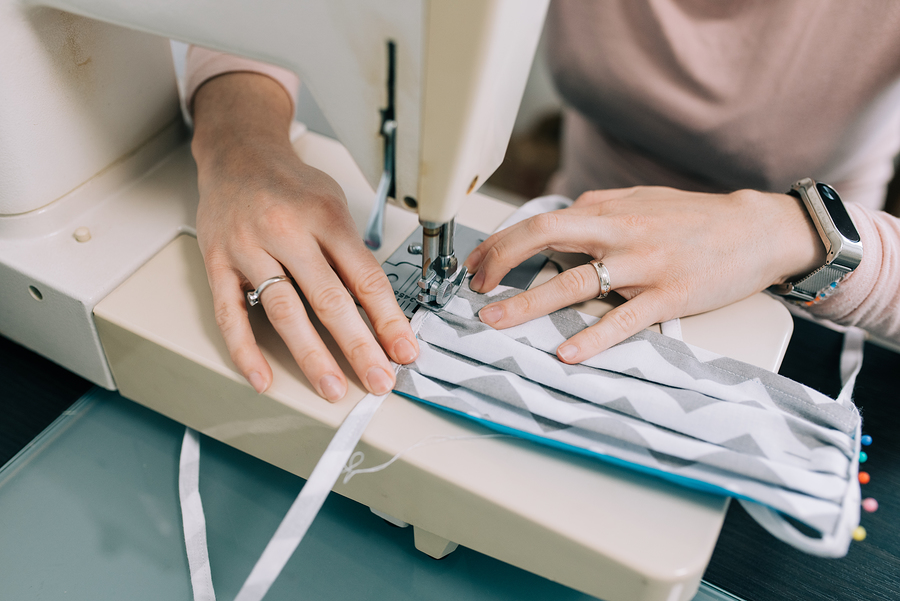 To craft a comfortable mask you can wear to help stop the spread of COVID-19, do the following. You can use a sewing machine or just sew these easy masks by hand:
Cut two 6-inch by 9-inch rectangles from your tight weave bed sheet or pillowcase.

Cut two lengths of elastic band, 7-inches each. 

Place one pillowcase square on the table, face-up. Place the second pillowcase square on top, face-down. On top of this, place your 6-inch by 9-inch filter. 

Between two of the layers, pin your elastic bands in place. You'll place the end of one band near the top right and the other end near the bottom right. The elastic should form a loop that falls inside the fabric layers. Repeat with the second elastic band on the left side of the mask. When looking down at your mask at this stage, you should not be able to see the elastic bands. They should be tucked inside the fabric assembly.

Stitch around the edges, leaving space on one side unstitched. This is where you'll turn your fabric.

Double-stitch over the spots where the elastic bands meet the fabric for added strength. 

Turn your mask inside-out and stitch over the opening. 

At this point, your mask may be done. Or, if you're experienced at sewing, you can add simple pleats to make the mask fit better. 

You can also modify this design by not stitching the filter inside. Instead, leave the opening where you turned the mask unstitched. You can then insert a filter at will. 
Sobel At Home Urges Everyone to Stay Home, Stay Safe
Sobel At Home wants everyone to stay safe during the COVID-19 crisis. By using tutorials like this video, or other methods, you can craft simple face masks for friends and family that will help us all end the COVID19 outbreak sooner.