Classic Quality and Style for Any Bedroom
Star Wars™ fans come in all ages, of course. The beloved franchise has been around for decades and enthralled audiences everywhere around the globe. Generations of fans have enjoyed the movies, adventures and legendary characters. Some franchise merchandise, like toys, may appeal mainly to kids and collectors. But we are pleased to say our gorgeous Star Wars™ bedding is something that everyone enjoys, kids and adults alike. Our Star Wars™ bedding comes in beautiful refined, classic designs, textures and tones that appeal to almost anyone, maybe even those who haven't yet felt the force in their lives. Adults, as well as kids, will love the look and comfort of these top quality bed sets. And all of them will give the sleeper a great night's sleep, where they may dream of galaxies far, far away.
The classic designs and subtle references to Star Wars™ themes are faithful to the franchise lore, but also fit beautifully into any home decor. Whether you are a casual or dedicated fan, you'll love the look and feel of these classic designs. If you are looking to update your bedroom look, or looking for the perfect holiday gift, take a look at our carefully curated Star Wars™ bedding collections.
Sunny Tatooine Bed Set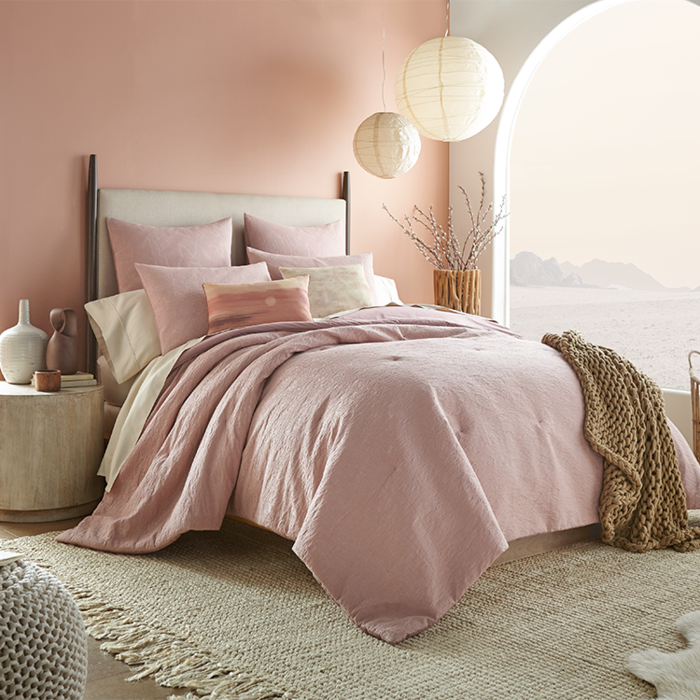 This gentle pink hued set lets Star Wars™ fans experience the atmosphere of the planet Tatooine, home planet of Luke Skywalker, with its warm, sandy environment. It offers any bedroom a tranquil, soft look and feel that encourages rest and relaxation. Soft pastel colors provide an air of calm and tranquility, and a gentle invitation to sleep. This set is ideal for those who want a bedroom filled with warmth and soft colors. Accessorize with a cable throw and decorator pillows to match.
Peaceful Jedi™ Retreat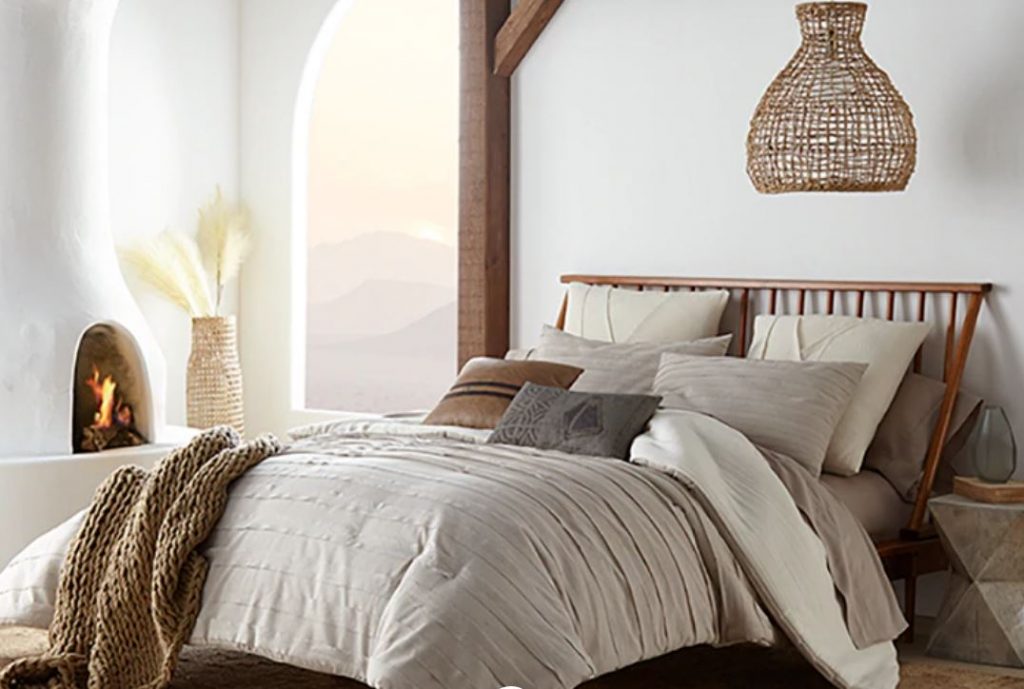 You don't need to be a Jedi™ to seek wisdom and peace in your personal home retreat. This Jedi™ inspired bed set exudes simplicity, relaxation and a peaceful calm. Its neutral colors, inspired by the simple dress style of the Jedi™, fit any decor, while the thick comforter provides plush, cozy comfort. Pillows and shams complete the look for a luxuriously inviting bedroom retreat. Enjoy the sense of simplicity inspired by this tranquil bed set. Accessorize with matching sheet set, cable throw, Jedi™ design pillows and luxury embossed towel set.
Tech Fans Love Astromech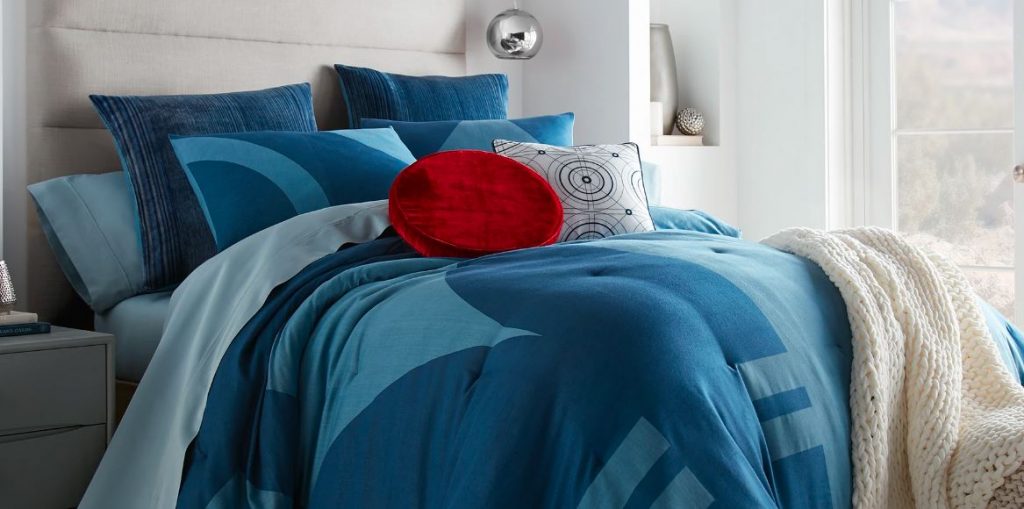 Everyone loves R2D2, the little robot with lots of personality. His bright spirit shines through in bold blues and red in the Astromech collection. This striking bed set is a great choice for anyone who enjoys the energy inspired by bright colors that pop. Technology fans will relate to the metallic hues in the design and many will enjoy the primary colors that make up this cozy bed set. The red eye pillow pops a blaze of color that draws the eye to your lively bed set. Matching sheets and an offsetting light Galaxy Throw will round out your fresh, bright new bedroom look.
Get Serious on the Dark Side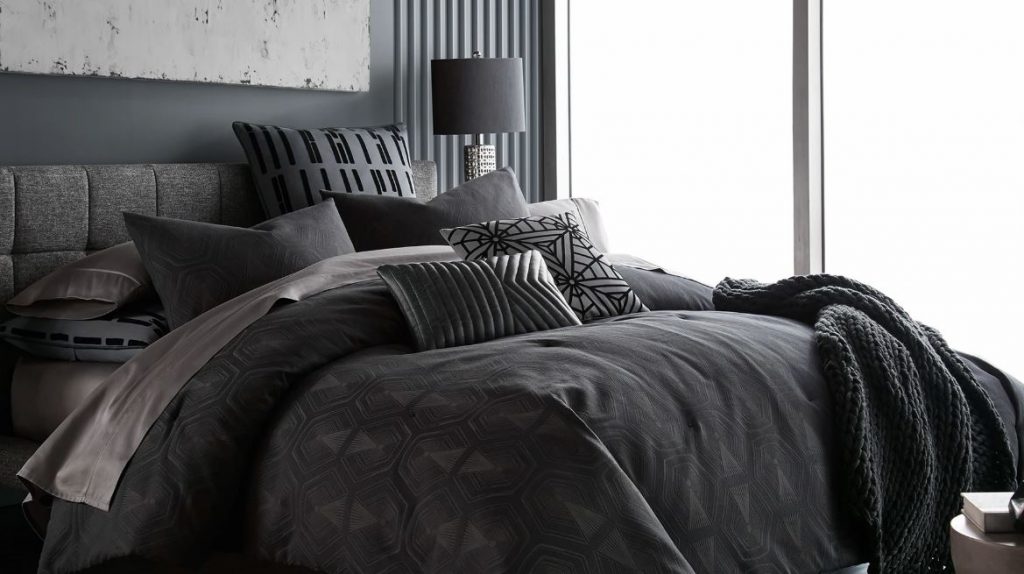 For folks who like to make a serious statement with their bedroom decor, the Dark Side collection provides a forceful look in soft grays and striking black highlights. Even the decorative pillows keep to the dark theme that Darth Vader fans recognize and that stands out with striking designs and bold patterns. If basic shades like black, silver and gray inspire you, this set will enrich your bedroom look and keep you toasty warm on cold winter nights. Add a luxury throw and fully embrace your Dark Side.
Trust Quality Linens by Sobel Westex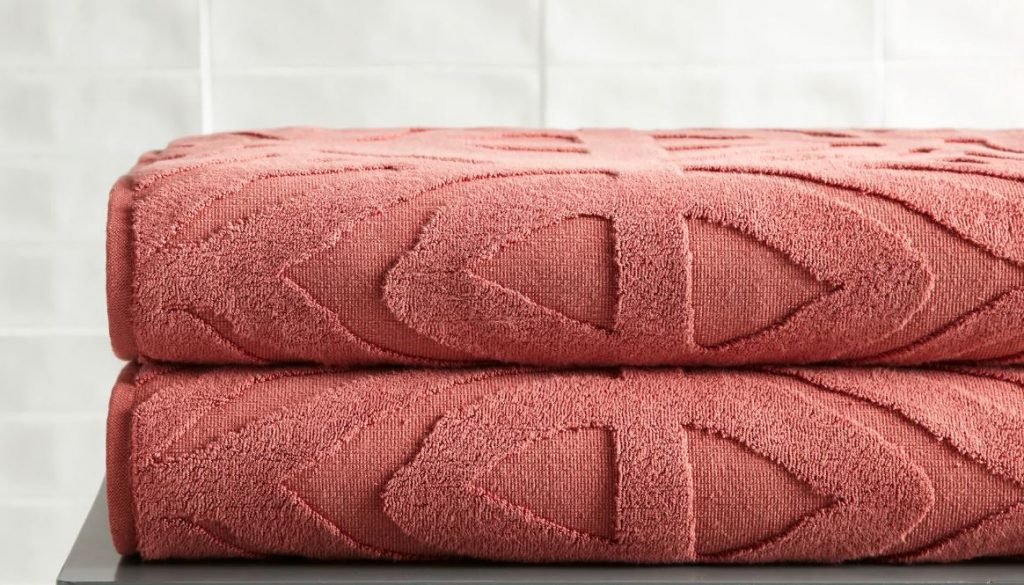 Star Wars™ fans are head over heels about this themed collection, so lovingly designed to reflect their favorite characters, cultures and locations from the films. But we think everyone will love these classic sets that bring unique and beautiful designs to any bedroom and years of comfortable, dreamy sleep in Sobel Westex quality bedding. These bed sets are quality jacquard fabrics, that is the pattern and colors are incorporated into the weave during manufacturing. This adds to their beauty and makes them more durable so they retain their new look longer.
And don't forget the high quality accessories available in the collection, including sturdy cable-knit throws that add flair to any bed, chair or sofa, the plush, cotton towel sets, matching sheet sets and unique designer pillows that will please anyone looking to add a spark of color and design anywhere it's needed. The sets also come with Star Wars™ themed totes that you can use for travel or a trip to the beach.
The Sobel Westex Star Wars™ collection is truly one of a kind and is selling fast. These sets make great holiday gifts. Order yours today to be sure to be able to give this fabulous gift to the Star Wars™ fan in your family, or to gift to anyone who enjoys luxury and beautiful design to enhance their bedroom decor.