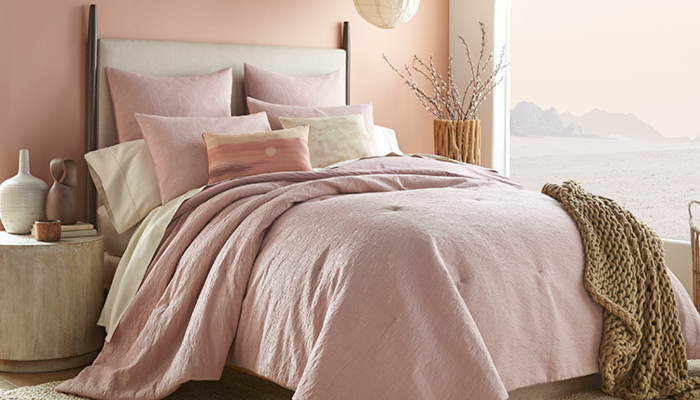 Sobel at Home now offers you beautiful ways to bring elements of a beloved galaxy far, far away into your home. The Star Wars™ Collection from Sobel at Home features four different Star Wars™ themes, including our new Tatooine Bedding Collection. The iconic desert planet where Luke Skywalker was raised serves as the inspiration for this bedding set. With our Tatooine Collection, you can recreate the fierce beauty of the dual sun Tatooine's desert environment in your bedroom. Take a minute to explore our amazing new Tatooine collection.
Tatooine 7-Piece Bedding Collection
Our Tatooine 7-Piece Bedding Collection offers a soothing and serene desert escape look to transform your bedroom. This collection's natural textures and subtle colors pay tribute to the tones of the starkly beautiful desert planet. Soft blush hues combine with terracotta tones to create a warm, inviting look resembling desert shades under twin suns on Tatooine. This comforter is constructed with T300 textured jacquard front and T200 percale solid back, providing a high level of quality. The set includes a comforter, two standard shams, two Euro shams, a printed Tatooine moon decorative pillow, and a satin flocked decorative pillow.
Available in king and queen sizes, our Tatooine Bedding Collection comes in a large weekender tote that you can reuse for the beach or other trips. You can use this handy felt tote to store towels, blankets, throws, and any other items you need on the go.
Sleep Serenely on Classic Sheets
Pair your new Tatooine Bedding Collection with a set of classic sheets. While these classic sheet collections are available in eight colors, Sand is the tone most complementary to your Tatooine bedding set. This neutral tone perfectly matches the earthy tones of the Tatooine comforter, shams, and decorative pillows. These T300 cotton sateen sheets are antimicrobial, durable and easy care. The Sand Classic Sheet Collection includes a flat sheet, a fitted sheet, and two pillowcases. Choose from king or queen sizes for your bedroom.
Decorative Tatooine Design Pillows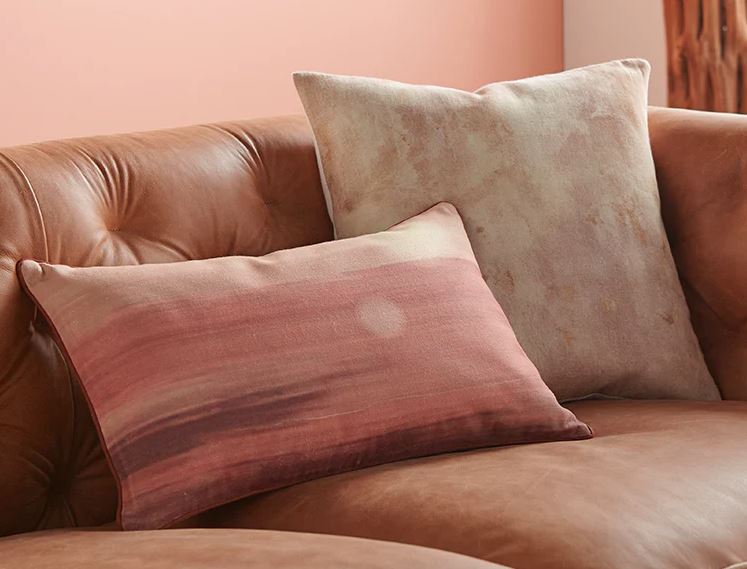 While our Tatooine 7-Piece Bedding Collection includes two decorative pillows, no need to stop there. These soft-hued pillows beautifully capture the spirit of Tatooine, so spread the vibe around. Add more Star Wars™ decorative pillows to bring your bedding set to life, or toss them onto armchairs, sofas, window seats or other favorite relaxing spots. Our decorative Tatooine pillows  are sold in sets that include one printed Tatooine moon decorative pillow and one double gauze decorative pillow. The printed pillow measures 12" x 18", while the double gauze pillow measures 16" x 16". 
Dune Galaxy Throw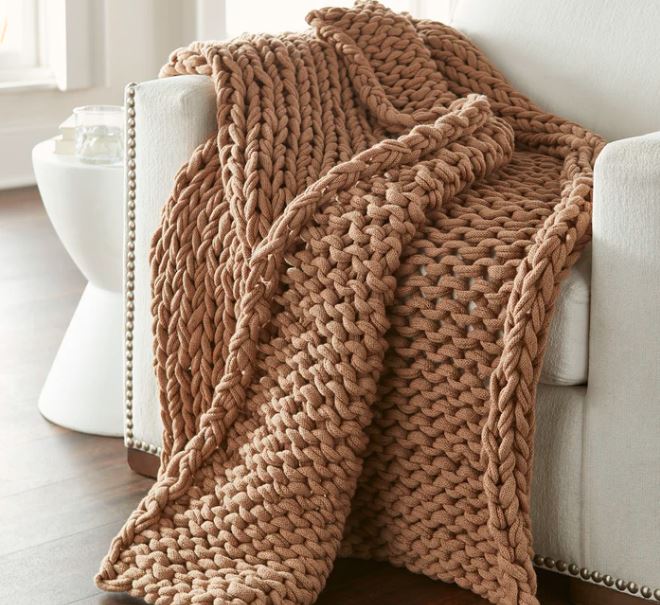 Just as desert nights on Tatooine turn cool, you might want some extra warmth and comfort in your own bed. The Galaxy Throw provides the ideal way to add coziness to your Tatooine bedding. This 100 percent acrylic canvas wrap throw features a chunky knit style that's perfect for wrapping yourself up in on cooler nights. Although there are four colors to consider, choose the Galaxy Throw in Dune to go with your desert-inspired bedding. Measuring 50" X 60", this throw is big enough to spread over your comforter during the day and curl up with at night.
Explore the Star Wars™ Bedding Collection
Whether you're looking for a calming bedding collection inspired by the desert's raw beauty or want to give a nod to your favorite films through your bedroom decor, the Tatooine Bedding Collection is the perfect set. And, spread the Star Wars™ theme throughout the house by adding some of our other unique Star Wars™ themed bedding sets, including the Dark Side, Astromech and Jedi™ Collections. Visit Sobel at Home  to explore all that the galaxy has to offer.