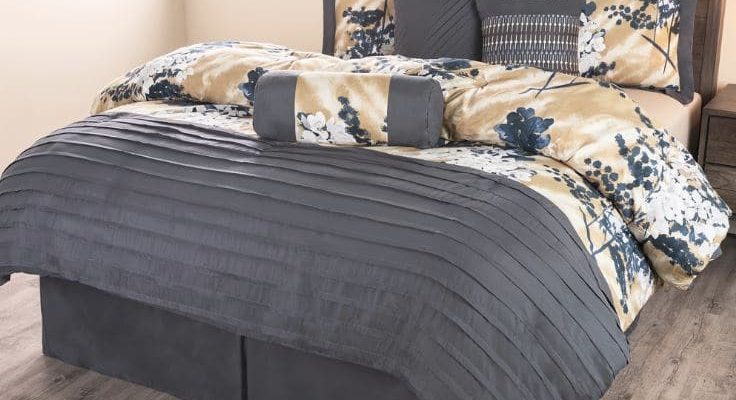 Fall is the Perfect Time for a Warm New Luxury Comforter Set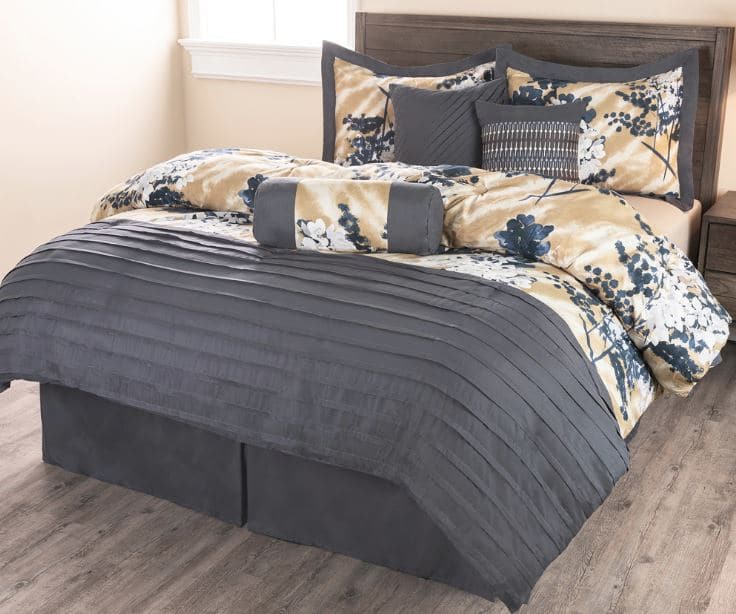 One of the great things about the change in weather from summer to fall is the cooler evening temperatures. Not only do most people sleep better when it is cooler, but autumn temperatures combined with a great comforter gives us an opportunity to feel like we're sleeping on a cloud. Instead of trying to sleep in that warm sticky air of summer, you can feel cozy and pampered under a soft and stylish new Sobel at Home luxury comforter set.
Sobel at Home offers the best luxury hotel linens in our online store, sobelathome.com, so consumers can enjoy the same quality they enjoyed on their vacations or business travel.  We have made available four high end comforter sets in a range of styles. Give one a try – your bed will look like a dream and you'll sleep like a baby!
Restful Washed Linen Comforter Set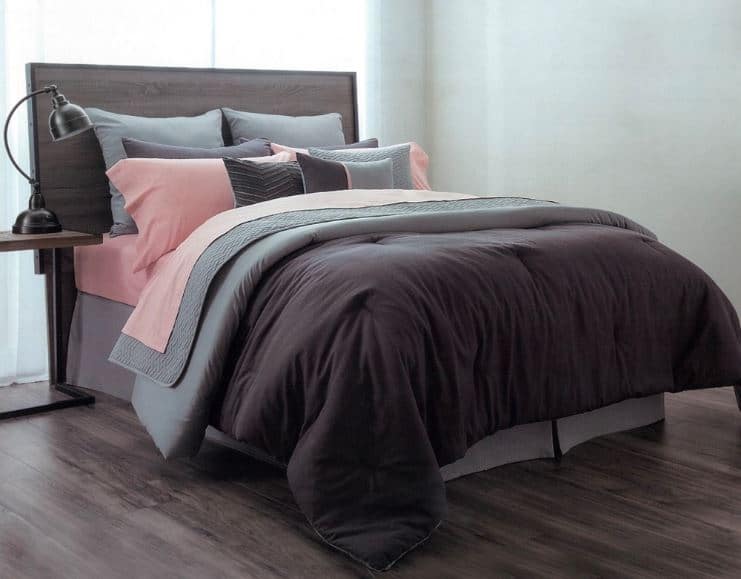 The Washed Linen 14 Piece Comforter Set comes in restful colors that express the quiet end of summer peacefulness of a fall landscape. The harmonious set of colors include a sheet set in dusty pink, a contrasting gray coverlet, two chestnut brown pillow shams, two gray euro shams, a gray Euro pillow, and brown and gray oblong pillow. The sheets for the washed linen comforter set are 100% cotton, while the comforter is made of 55% linen and 45% cotton. 
You'll be grateful for shorter days and longer nights as you get comfortable under your washed linen comforter set.
Floral Bouquet Comforter Set: Celebrate the Last Bloom of Summer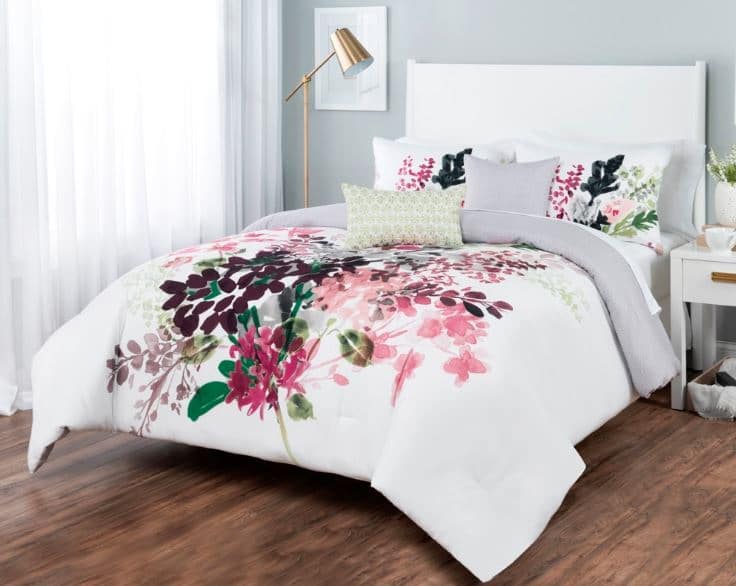 The 8-Piece Bouquet Comforter Set has a European style floral design of a bright swirl of flowers that will keep the sunny skies and flowers of late summer alive all fall in your bedroom. The design features a floral motif with bright purple, pink and green flowers that pop off the white background. The floral theme is continued with pastels to complement the bright comforter. The set comes with two regular and two Euro pillow shams, as well as two decorative pillows and a bed skirt. Everything in this eight piece set is made from polyester to make care as simple as throwing it into the washing machine.
This beautiful, bright comforter set will add joy to any bedroom, and help you wake up refreshed and revitalized every morning.
Indulge your Bedroom in the Rich Colors of an Autumn Wine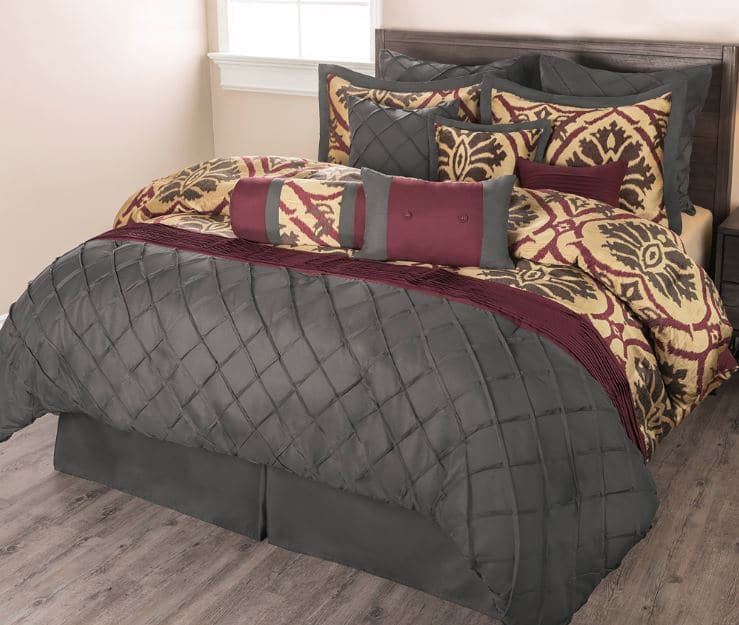 It is difficult to decide if the color and design of the Vino Rosso 11-Piece Comforter Set are more impressive than its warmth and comfort on an autumn night, but the combination is irresistible.  This luxury hotel comforter set has restful, warm colors of gold, gray, and rich burgundy that resemble a classical Italian tapestry.  The design includes swirls and arches mixed with gold and gray. The eleven piece set includes a comforter, two pillow shams, two Euro shams, five decorative pillows, and one bed skirt. This set is made of polyester, offering easy and machine washable care while delivering a warm and cozy feel for chilly fall nights.
Enjoy Golden Dreams with an Asian Flair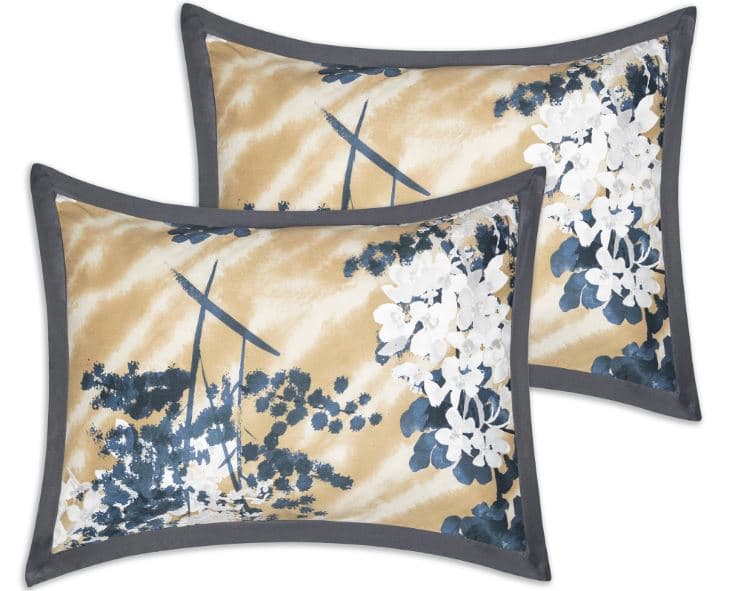 The Hana Dream 7-PIece Comforter Set comfort set is rich in color with a clear touch of traditional Japanese garden. It features a design of white and blue blossoms with a rich, gold patterned background, all offset with the calming grays of pillows, pillow shams and bed skirt. This set is made of super comfortable polyester that is easy to maintain by simply throwing it in the washer when needed.  This comforter set includes a large 90" by 90" comforter, two pillow shams, three decorative pillows, and a bed skirt. Let this delicate design lighten up your bedroom while still keeping you warm and comfortable when the 
Sobel at Home for Fall Comforter Sets, Luxury Blankets and More
Find out how Sobel At Home can help make the changing of the seasons more comfortable than ever.  Choose one of our luxury hotel comforter sets or blankets, and make your bedroom feel and look great this fall. For a fresh makeover, choose one of our quality bed sets or a luxury hotel pillow made for your sleep style preference.