There are so many choices for bed sheets out there, of different materials, thread count and weave, it can feel overwhelming. But with a little knowledge, you can find great sheets that work for you. Selecting the right quality bed sheets can help you enjoy comfortable sleep and let you enjoy easy care, good looking sheets. Quality bed sheets will last so you don't have to spend a fortune replacing them every year. The right sheets will match your sleep style and tastes, for optimal comfort night after night. They will fit well, look good and feel great every time you use them. Knowing your choices will help you find the best sheets for you.
Sleep Preferences
Before you choose the perfect sheets for your bed, consider your sleep preferences. Do you like to snuggle into warm sheets or do you prefer a cooler feel? Do you prefer cozy and soft, or a satin, silky feel? Do you want sheets that wick away moisture so you sleep comfortably all night, even in hot weather? Linen has a more natural fiber feel than cotton or polyester sheets, but can feel scratchy to some sleepers. Keep your preferences in mind as you consider the different choices described below.
Material
The most common materials for sheets are cotton and cotton/polyester blend, but there are other popular choices as well.
Cotton
Cotton is the most popular and versatile choice for bed sheets. Cotton is a natural fiber, soft and breathable. Cotton sheets texture and durability can vary depending on the type and quality of the cotton fibers and the type of f weave used.
Egyptian Cotton The long, strong fibers found in Egyptian cotton are soft and smooth. They tend to be more durable over time than shorter fiber cotton. Egyptian cotton fibers don't pill as shorter fibers of inferior cotton may, and the fibers hold color better so they don't fade over time.
Pima Cotton With long silky fibers, pima cotton is soft to the touch and very durable. It is also the most wrinkle resistant of the cotton fabrics.
Supima Cotton Supima is a superior cotton developed in the US. Its extra-long fibers assure soft and durable sheets that also retain color very well. Like Egyptian cotton sheets, Supima cotton sheets are breathable and comfortable and will last for many years with proper care.
Quality matters. When selecting cotton sheets pay attention to quality. While cotton is the most popular material for bed sheets, there are a lot of inexpensive, low quality cotton sheets on the market. The fibers used in these sheets are short and weak so they easily break down. Keys to quality are the type of cotton, such as those described above, thread count (if it is correctly stated, we discuss that below) and weave. Cheap cotton sheets will look and feel thinner and rougher, will pill easily and their colors will fade over time.
Polyester
Polyester is a manmade material, designed to be wrinkle resistant, durable and easy to care for.  It is an affordable choice, and is often found as a cotton-polyester blend, which gives the sheets more breathability and moisture absorbing ability.
Silk
Silk is one of nature's most amazing gifts. Made by silkworms, the fibers are amazingly strong and extremely soft for that smooth, luxurious feel. While not everyone prefers the silky feel of these sheets, for those who enjoy them, they will feel great in both warm and cold weather. Because silk doesn't wick moisture away, it is a great choice for anyone with dry skin. Silk sheets should be hand washed or machine washed separately on delicate cycle to keep them at their best. Don't put silk sheets in the dryer. They should be line dried.
Microfiber
These sheets are made from man-made materials designed to be soft, durable and easy care. They are hypoallergenic and have good breathability. Microfiber also repels moisture, keeping you dry and comfortable and does not pill, so the sheets stay smooth and soft over time.
Linen
A fabric that goes back centuries, linen sheets are made from the flax plant. These sheets are soft and get softer with each wash cycle. Linen bed sheets have a cooling effect, so they are great in warm climates. They are antimicrobial and have a natural, wrinkly look. They feel more textured than cotton sheets.
Flannel
Flannel sheets are made from cotton.The cotton is brushed to create a soft layer on top of the sheet. Some people like them for the extra cozy feel. They are usually best, however, in cold climates as they are heavier and thicker than other sheets, so tend to hold more warmth. 
Bamboo
Bamboo has become a popular sheet material for its eco-friendly qualities. The bamboo plant grows quickly and easily, so it doesn't require fertilizers or pesticides, making it a healthy and ecologically good choice. Made with long fibers, bamboo sheets are soft and durable. Bamboo sheets regulate body heat temperature well and are hypoallergenic and antibacterial.
Weave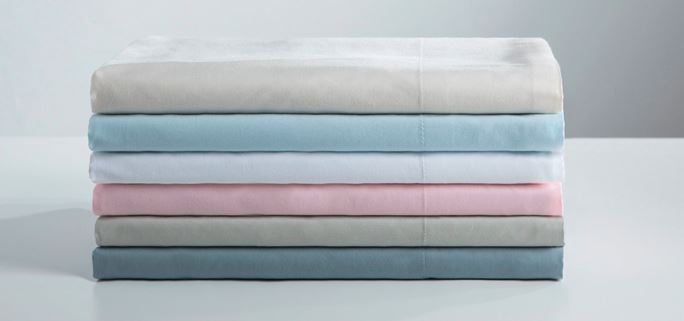 Percale
Percale sheets are most often made of 100% cotton, but may also be made of polyester, polyester/cotton blend, rayon or microfiber. With their one-over-one-under tight weave, percale sheets have a soft but crisp feel. They are light, durable, and breathable for comfortable sleep. Percale sheets get softer with washing and are very durable. They may tend to wrinkle, so some users prefer to iron percale sheets after washing to keep that crisp, smooth look.
Satin
Satin weave is made from filament fibers, fibers that are very long. A satin weave is silky and shiny on one side but not the other. Satin sheets are usually made with silk, nylon or polyester and they are wrinkle-resistant. They are soft and have the feel of silk sheets. Like silk, they tend to retain warmth when you sleep. As the long filament fibers are susceptible to breakage, these sheets are delicate and must be hand washed and laid out to dry, never put in the dryer.
Sateen
Sateen weave is similar to satin, however it is made with short staple spun yarn fibers. Materials may be polyester, nylon, rayon or cotton. Like satin sheets, they are shiny on one side but not the other. They are also wrinkle-resistant. They are very soft, but not quite as silky as satin sheets. They are a bit more breathable than satin. Their great advantage is durability superior to satin. Also, in contrast to satin, they are easy care, machine washable and tumble dry low heat.
Plain or Linen Weave
Plain weave is the most basic of weaves and is most often used for linen sheets. It produces a strong, durable fabric. Linen fibers are about 30% thicker than other materials, producing a sturdy, durable and strong bed sheet. New linen sheets may feel a bit crisp with more texture than cotton sheets. Linen sheets have a wrinkled, informal look.. Linen's thick fibers mean it will have a lower thread count, but your linen sheets will last a long time.
Size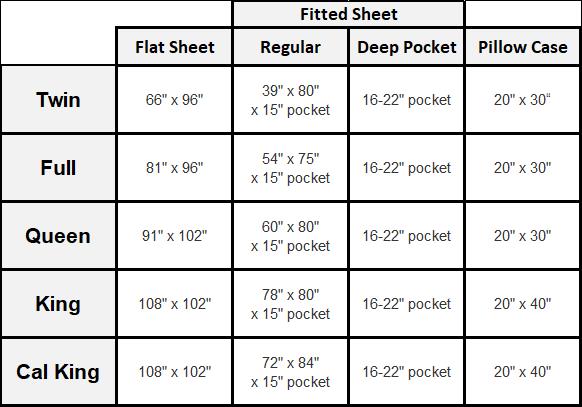 Sheets, like mattresses, generally come in standard sizes: Twin, Full, Queen or King. Other bed sizes may be Twin-XL and Cal King, so check your mattress guide carefully before buying new sheets. If you aren't sure, you can use a bed size dimensions chart and measure your mattress carefully to be sure you buy the right size sheets.
Thread Count
Thread count is the number of fibers per square inch of fabric. While it is not the only factor in comfort and durability, in general, higher thread counts will be softer and stronger. Extremely high thread count is not necessary. Generally 200-400 thread count is appropriate for cotton sheets made with quality fibers such as Pima or Egyptian cotton. Sheets made with heavy fibers, such as linen, flannel or microfiber will have lower thread counts (80-140 TC), whereas the fine, silky fibers in sateen or silk sheets generally will be higher at 300-600 TC.
Be careful about manufacturers who use deceptive thread count by double counting. They use two-ply yarn and then market them by reporting double the actual thread count in the weave.  These are usually short fiber, lower quality sheets that may pill and thin out with use.
Mattress Depth
Today's mattresses are available in different depths. Deeper mattresses are more supportive for larger and heavier sleepers, or they may better fit the bedframe/headboard set up. With a deeper mattress, in order to use a fitted sheet and keep it tightly tucked under the mattress, your new sheets will need to be deeper than standard fitted sheets. When shopping for sheets to fit your deep mattress, measure how many inches in depth you will need, and look for "deep" or "extra-deep" pocketed sheets. When considering how deep your sheets need to be, be sure to add in the depth of any pillow-type, featherbed, latex or memory foam mattress topper you may have on the bed.
Durability
Egyptian and Pima cotton have the longest and strongest fibers and are the most durable. A quality weave such as percale and mid to higher thread count will also be longer lasting. Care is also important in helping sheets last longer. Wash your sheets in cool water on gentle cycle with mild detergent. Line dry or dry separately on low heat. Don't over dry sheets as this will result in broken fibers. With care, quality sheets should last at least 5-10 years before they need to be replaced. If sheets become loose and won't hold their form, or color fading or pilling occurs, it's time to replace them. 
Eco-Friendliness
If you are looking for eco-friendly bedsheets, 100% organic cotton or bamboo are good choices. These are grown without the use of pesticides or chemical fertilizers. If you shop for these products, be sure to check the manufacturer as many products advertised as "organic" may not always be made with an environmentally friendly process. Buying quality sheets that last a long time is also a good way to manage the ecological impact of your purchase and reduce waste.
Match Colors and Styles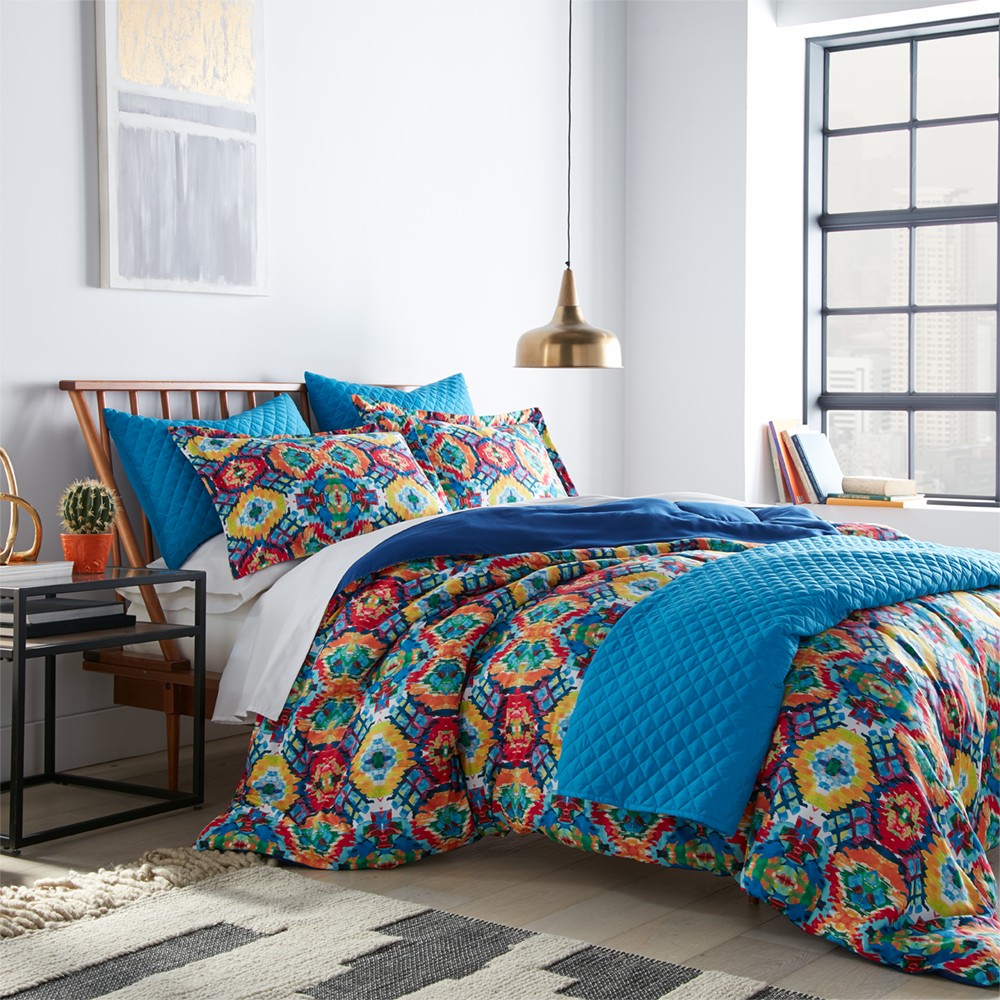 It may seem obvious, but take the time to select colors and styles that are both versatile and that match your tastes, bedding set or overall bedroom decor. Quality sheets will last many years, and you want them to fit well into the overall scheme, even if it changes from time to time. Many people keep one or two quality sets of neutral color sheets, such as white or beige, that will work year-round with any covering they may have on the bed.
Accessorize
Bed sheets usually come in sets that include a flat sheet, fitted sheet and one (twin) or two (full or above) pillow shams. You can add to this with accessories such as fresh new pillows, pillow protectors, matching coverlet, duvet, comforter, decorative pillows or bed throw. A mattress topper will help keep the mattress under your sheets fresh and clean, and add a comfortable layer for you to get better sleep.